A baker's dozen of memorable powerpop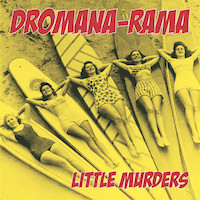 Dromana-Rama - Little Murders (Off the Hip)
Forty years ain't a bad innings for a band. By any measure. Sure, Little Murders spent patches of that time on hiatus - and the band is essentially a "brand" for leader Rob Griffiths, its only constant member - but a few of the current personnel are long-termers, and its sound has remained intact throughout.
Name a band that hasn't changed membership over a period of decades? If you're a fan, the best you can hope for is that a collective has remained true to its spirit, usually defined over the course of a brief purple patch of two or three records, and doesn't serve up a dud. Little Murders has stayed the course and for considerably more than a handful of albums.
As alluded in a past review, Rob Griffiths used to write a blog called "100 Songs" about songs that had touched him. One tune, one post. It was an incisive trip through all sorts of music that respected no hard generic boundaries. Rob's a song guy, no doubt, but the common thread was his love for a great pop melody and a lyric that sparked an emotion.
So it is with "Dromana-Rama", which is the eighth album under the band's name. There's been the odd side trip down the years, but Little Murders is mostly about killer guitar pop. "Dromana-Rama" does not stray from that path and it does not miss. There's a baker's dozen of songs on "Dromana-Rama" and they'e all in the Little Murders tradition of succinct, lingering and tuneful stories.
"Noisy Cats" (showcased on the recent Popboomerang power pop extravaganza) is artful pop where emotion is expressed through everyday observations. Easier said than done but this is Rob Griffiths' stock-in-trade. The song is an instant classic.
"Train" is urgent riffing and sharp slide with a simple, allegorical lyric ("Our love is like a train/coming round the bend") that throws the Griffths modus operandi into stark relief. Like Mariani, Medew, Masuak and Oxley (I'll declare an interest in the middle two), Rob matter-of-factly puts his emotions out there, dresses them in tunes and lets the listener join the dots.
Musically, Griffiths lays down his guitar for this album and leaves the interplay up to Rod Hayward and relative newcomer Andrew Royall. Opener "Memory Sky" digs in its hooks from the get-go; "One by One" hangs off an undulating melody and throws in some country licks. "Wait" applies a similar melodic formula but falls back on some insistent riffing. "52 Bands" is a simple knee-rattler. Rod Hayward's guitar talks on "Baby I Love You" (not the Ronettes song). And so it goes.
Although there's the odd false step - "Blairgownie" sounds sketchy to these ears - there's not much to dislike. If Rob writes bad songs he doesn't record them.
There are guests - Killjoys vocalist Anna Burley adds some backing vocals and Danny McDonald (guitar) and Craig Pilkington (bass - and producer) provide cameos - but "Dromana-Rama" is as much the work of a band as its songwriter. Catch them if they play near you. If you don't, buy their albums.



1/2
Tags: little murders, rob griffiths, rod hayward, craig pikington