Bedouin of the Fitzroy Evening - Lonely Stretch (self released)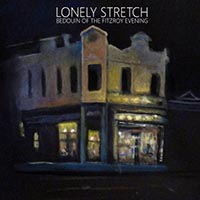 "Bedouin of the Fitzroy Evening" is the first album by Adelaide's Lonely Stretch.
You've probably heard of The Dunes, who are deservedly gaining increased amount of fame and favour. Lonely Stretch is, essentially, a side project spearheaded by Matt Reiner (guitar, 'programming', vox).
He's joined by the occasional Dune (Brett Walter, keys) and other likely musicians such as Max Tulysewski (drums), the multi-talented Matt Hills (production, 'programming', bass and other guitars), and Romana Ashton (vox).
In a nutshell, "Bedouin of the Fitzroy Evening" is a low, dreamy, laid-back groove, as light of touch as a half-remembered lover. Take the song "Time with You", which manages something few songs do - evoke a sense of place and time, almost a sense of invented nostalgia:
Let's wake up slow and take the dog for a walk to the corner store
Buy a paper just for the classifieds – walk back to our door
Scour the musical instruments section for guitars
There's a Tele going cheap - let's drive there in our car

The title track was "inspired by a collection of poetry by reclusive English poet Rosemary Tonks entitled 'Bedouin of the London Evening' purchased from Collected Works Bookshop, Melbourne," Reiner says.
"The song prompted a search for images of the Melbourne suburb of Fitzroy, which ultimately lead to the discovery of a painting of Brunswick Street at night by Sydney-based Impressionist artist Fred Marsh. With Fred's permission given to use the painting, the album cover (and title) fell into place."
"Just a Dream", the band describe as "a dark lullaby following an attack of night terrors", and I can't improve on that.
There's a great wealth of music here; more than a touch of medieval folk music, with a fabulous ... no, I won't give it away. LIsten to it and buy a download here.

Tags: lonely stretch , Matt Reiner, the dunes, bedouin of the fitzroy evening