Dislocation - The Primevals (Triple Wide)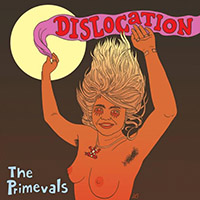 Rock and roll isn't dead - it's just being ground into the carpet like so much stray cigarette ash by the powers of mediocrity and digital division. If you apply the vacuum hard enough and in the right places, you'll still find it.
So point the nozzle of your Hoover (or Dyson, if you're cashed up) in the direction of Glasgow, Scotland, and suck up as much of The Primevals as you can. Three decades into their existence (admittedly, with a break in the middle), these gnarly Scots are staking a claim for independence from the banal indifference that passes for mainstream radio rock, Jock.
Och, aye, Jimmy, as you'd expect with any band from that part of the world that's lasted for more than 10 minutes, these fuckers wipe the floor with most of their competition.
The career resumption that began with "'There Is No Other Life…And This Is It"" in 2007, kept going with 2011's "Disinhibitor", "Heavy War" (2012) "Tales of Endless Bliss" (2014), continuing unabated with "Disliocation" is something to behold. Nobody is kidding themselves that world domination will result. Comfortable retirement in the Bahamas does not await. But you can hear that The Primevals are right into what they do - which is play strident 'n' soulful garage-blues (for want of a better term) with a swagger and conviciton that only long service in the trenches can bring. Look to the semi-retired Nomads, the ever brilliant Fleshtones or the sproadfially actiive New Christs for comparators.
Wicked slide guitar, dashes of psychedelic organ and occasional trumpet joust with Michael Rooney's cocksure vocal to make this one substantial long-player. Tom Rafferty and newish member Martin Rodger do the business on guitars and Any Gillespie's warm and fluid bass gives the band a melodic edge.
You have to think that an outfit that used to play Sun Ra covers for fun is not your usual garage band, and you'd be right. The 12 songs on this LP/CD run a wide stylistic gamut, from the punch-not-paunch of the opening "Fever Zone" to the blueswalkin' "Boho Baby".
Then there's the stop-start "The Heebie Walk" and the psych-rock-soup of "Cuckoo Clocks, Chocolate and LSD". The moody "Let It Happen", and its stinging riff, serves as a mid-album pause, of sorts. The blues harp and organ flavoured "Slow Drip" wails in a sparse, desultory way.
Pick of the litter, however, would be "East Campbell Street Breakdown", a chugging rocker with a big bottom end that's introduced by a smattering of blaxploitation cool. It careers along like a busload of Scotsmen on their way to a free piss-up before grinding to a stop.
"Making Up Time" is an old song, co-written by Rooney and producer Richard Mazda when he was knocking around the band, and it closes the record down. By that stage there's only one thing to do - hit repeat play and chase down some Primevals back catalogue.




1/2
Tags: primevals, disinhibitor, glasgow, scotland, triple wide