Down the Unmarked Road - The Tall Grass (Come to the Dark Side)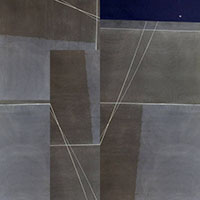 Lovely LP. Ugly, too.
The Tall Grass is Jamie Hutchings (Bluebottle Kiss) and Peter Fenton (Crow). Never heard those two bands, but I gather "Down the Unmarked Road" is a notable departure for both of them. Like Rheyce O'Neill's "Ubermensch Blues", they've focused on the meaning of the songs to create a bittersweet landscape rich in Australiana.
Take the first song, "Ghost Gums". It reeks of an air of gorgeous menace; thunder in the distance and birdsong. You can almost smell the heady blossom after rain. And, although one might consider the setting of the song to be in the country, I immediately thought of our everyday Australian suburbs. In fact, all the simple everyday beauty and tainted Little Cities I know are ... in the burbs. I don't think of Dimboola like this, somehow rancid yet yearningly beautiful. Dimboola would be a great place to live.
The music, well. Strong acoustic guitars, Sunday afternoon drums, sweet and sticky vocals. You'll be taken in, I promise. And then you'll recognise everything they're singing about. Because the lyrics reflect us, they don't criticise. You know where they're coming from. And it's us.
And you'll recognise people and situations in your street, and find yourself singing or humming refrains from The Tall Grass.
Hidden in plain sight, I guess.




1/2
Tags: jamie hutchings, peter fenton, the tall grass, down the unmarked road