Last Of The Buffalo - The Heartache State (Golden State Records)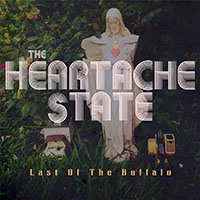 The second release from Melbourne's The Heartache State - the band formed by Southpaw's Justin Garner and much-travelled Nick Barker - has been something to look forward to for a long time. The good news is that there's no disappointment to be found on "Last Of The Buffalo".
The first self-titled album was a couple of years back and a fine thing it was too, but this time The Heartache State has lifted it a few notches with 10 tracks of hard, swaggering Aussie pub rock.
Nick Barker (Nick Barker and The Reptiles, The Wreckery) has always been good at straight-ahead, tell-it-like-it-is and don't-take-it-too-seriously-folks, punchy rock 'n' roll. He's joined by Justin Garner on guitar, Michael Hubbard on bass and Venom on drums (keeping it tight at the back.) They've got it well and truly right - not a foot wrong anywhere.
The single, ''Honey Slide", kicks off the album as a real statement of intent, with Garner letting fly on lead.Wow.Producer Shane O'Mara just lets the band go for it, getting a top sound in the process.He doesn't make bad records. Ever.
Now, there's not a bad tune here, but I reckon the three clinchers are 'Swallow Your Pride', "Last of The Buffalo" and'"Running for so Long'". Top chorus and follow up line: "Hey ain't no one behind ya now.''
"Airstrike" 'has a touch of Wreckless Eric about it (there's another underrated bloke.) Dunno…maybe only i can hear that?
Yeah i know it's a band record (and they know how to ramp it up) but Nick Barker appears to have a new lease of life - and i for one am glad to see it. He deserves it.