Paradox – Neil Young and The Promise of The Real (Reprise)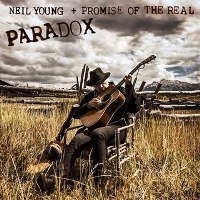 Neil Young shouldn't be allowed near a Super 8 movie camera, let alone a big screen. If his girlfriend, The Mermaid Lady, wants to make her own movies, she's rich enough to go right ahead. Just be merciful and don't make them compulsory viewing.
This is the soundtrack to a Mermaid Lady movie. Her directorial debut, no less. Apparently, the fillum is a rambling, plot-less Netflix download in which Neil and his band (aka The Spawn of Willie Nelson) appear as outlaws and cowboys, who "pass the days digging for treasure while they wait for the full moon to bring its magic, the music and let the spirits fly."
The above review comes from a friend and the media release. I can't vouch for it myself. What I do know is that Neil needs to stick to making music. It's his strength.
Let's be kind. Everyone needs a hobby. Toy trains are fine. But the book thing – that got real old, real fast. At Book Number Two, to be precise. If I want to know about used cars, I'll read back issues of Popular Mechanics or download the audio version to a Pono. I just want Neil to make music.
Every Neil Young album is a trip. Like trips (I've been told by a friend) some are better than others. While it's not "Tonight's The Night", "Zuma", "Time Fades Away" or "Rust Never Sleeps", "Paradox" is still one of the better ones. It won't expand your mind but it will occupy it. Not damage it - like "Landing on Water".
Is it mandatory to know the plot of a movie to appreciate its soundtrack? No. Soundtracks enhance the visual experience; they can tell the story, but they don't have to. "Paradox" is a seemingly random collection of music with a handful of familiar tunes at its core. If there's a plot to the movie, you'd have more hope finding it with a handful of crystals and a recycled cardboard water diviner than looking here.
Familiarity helps. An acoustic "Peace Trail", an organ version of "Pocahontas" and a raucous, sprawling live version of "Cowgirl in The Sand" (labelled "Cowgirl Jam") are the songs that fans will latch onto. Especially when they hear that splattering, napalm solo unfold in "Cowgirl".
The rest of the album is Neil and The Promise of The Real jamming on songs, between snatches of campfire conversation. There's a mix of rocking songs and some dustbowl folk. It's very relaxed and very live. The vibe is as much the thing as the songs. The Old Buzzard sounds like he gets on with the Young Potheads like a wood cabin on fire.
Did you ever hear the "Dead Man" soundtrack? It's full of saturated Young guitar sounds. Old Black is turned up oppressively loud. Neil sounds like he's adding accents and emphasis points to a B-roll that only he can see. Passages of conversation punctuate the music. It all adds up to a tense listening experience. The cumulative effect is superb.
"Paradox" is nothing like that. The only common thread is Neil and his band. That's not a negative. They sound like they're having a great old time - helped in no small part by them having bonded as a unit through playing lots of shows. It's not as centred as their last studio album together, "The Visitor", or as forced as "The Monsanto Years". Or as weird as "Earth", which sounded like a night locked in a zoo.

Tags: neil-young, promise of the real, reprise, paradox