The Collection - Roger C Reale & Rue Morgue (Rave On Records)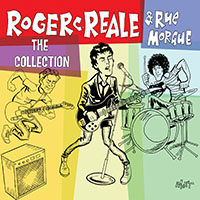 As splintered, disconnected, marginalised and disparate as this strange, recycled thing called rock and roll music is these days, rediscovering the forgotten, overlooked and ignored is one of its enduring joys.
Odds are that if you're not ensconced deep inside the US music industry, the name Roger C, Reale won't mean a thing. These days he's a Grammy nominee and award-winning blues composer. In 1977-78 he was just another hopeful, having his shot at The Prize in and around New England.
American bands have always done it differently to their counterparts. In Australia and the UK - at least in rock and roll's heyday - the existence (and credibility) of a band was built on constantly performing live. Paying their dues. There were exceptions, of course, but entry-level American bands were usually more about refining their chops behind closed doors and then playing The Showcase Gig, that one-off event that they hoped would lead to a major label signing.
Roger C. Reale was the bass-player, songwriter and vocalist in one such combo called Rue Morge, who got their foot on the bottom rung of the ladder via an independent label called Big Sound. Reale's debut album, "Radioactive", was recorded with a built-for-purpose band comprising guitarist GE Smith and Sparks live drummer Hilly Michaels. Issued in 1978 by the label (and through Decca in the UK), it sank like a stone.
You can understand why. Resources (or lack thereof) would have been one factor. Big Sound modelled itself on UK imprint Stiff Records. That's a hard act to follow. Reale immersed himself in the sounds of CBGB and Max's, and was supposed to be the label's answer to Richard Hell and the Ramones. Which he was not.
But here's where the going gets weird for those of us non-Americans: Rue Morgue played precisely one show - a showcase at Upper East Side venue Hurrah's - before starting to work on a second album.
Enter Mick Ronson, famed Bowie, Mott The Hoople and Ian Hunter guitarist and producer in his own right, then living in NYC. Rono heard "Radioactive" via drummer Hilly Michals and went batshit crazy over it. He asked (nicely) to play on the next recording - and the rest is "Reptiles In Motion", the second half of this re-issue.
"Radioactive" isn't "Blank Generation" but it ain't half bad in its own way. It's an American version of British pub rock crossed with a large dose of power pop. Case-in-point: "Dear Dad" is a Dr Feelgood-style rocker with keys and snappy guitar licks. "Stop and Go" is hooky pop that would have made The Plimsouls happy.
It's a diverse litter. "Kill Me" sounds like punk-by-numbers and probably shows where the label's head was at the time, but Rue Morgue's cover of "I Can't Control Myself" is a barrel of fun. So too the highly-strung take on "Rescue Me". Soul for the leafy Connecticut towns. At this point, I promise not to mention The Blues Brothers. Oops. It's not that slick.
"Please Believe Me" reeks radio airplay. Upon close inspection, the song entitled "Close Inspection" has Elvis Costello's name written all over it. That would be from that time when he was backed by The Attractions. So long before he turned lame.
Despite Mick Ronson's playing credit, second album "Reptiles in Motion" bears the guitar stamp of new recruit Jimmy McAllister. Which is to say Rono sat back and filled the spaces and the McAllister guy could really play. "Reptiles" sounds spikier and more cohesive than its predecessor, with handfulls of added grit. The skinny black tie remains loose. The song-writing is - not unexpectedly - stronger than the first record.
"No Secrets" turns the Elvis Costello sound up a notch. "Radioactive" has a muscular feel and a strong melody with McAllister and Ronson tightly meshing. "One More Try" is a heady pop rush in a leather jacket. "Debutante Ball" is more Yardbirds rave-up than Ramones and the Roy Loney Flamin' Groovies are surely being channelled on "Rock It To The Kremlin".
If it had been on Stiff it might have found an audience but the tale of "Reptiles in Motion" is an American tragedy. Soured relations with the label and the imprint's implosion condemned the record to stay on the shelves for 30 years. Reptiles in Slow Motion? An injustice.
It's out in all formats on October 18, 2019. Ain't discovering lost things grand?

3/4

Buy it
Tags: powerpop, roger c reale, rue morgue, radioactive, reptiles in motion