A little bit of Magic as jangle pop returns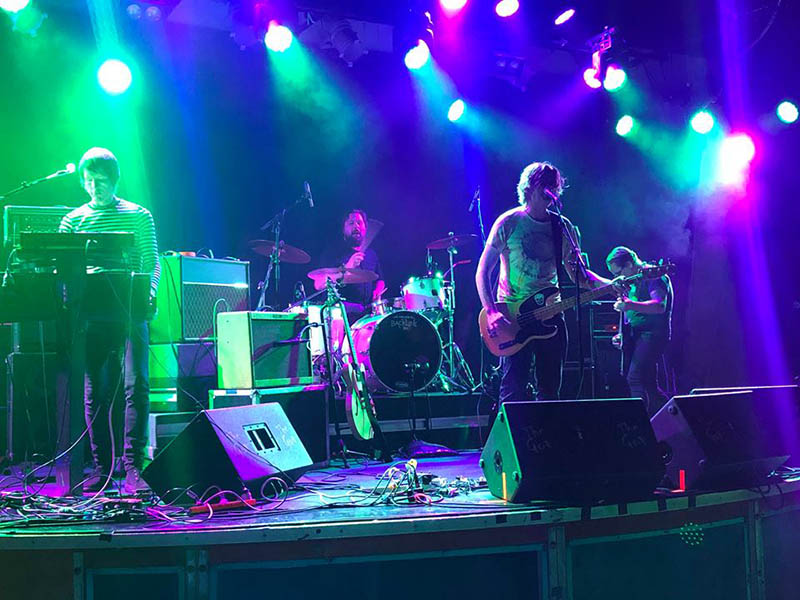 Subtract-S warm up The Gov. Rick de Pizzol photo.
The Magic Numbers
Subtract-S
The Gov, Adelaide
March 26, 2019
Photos by Rick de Pizzol
Ho to the Gov once more, to attempt to find a car park which may not exist, to finally succeed in an adjacent suburb, and plodge back the way I drove, feeling not remotely conspicuous as a I pass several pubs with the locals whooping it up, trailing behind a herd of badly-dressed bumpkins heading, it seems, in the same direction.
No, thankfully, they're not; the Entertainment Centre across the road has another do on and the streets are filled with the aforesaid bumpkins and, perhaps needless to say, their cars. I don't know whether the local council is aware of the hideous car parking problem in these suburbs, caused mostly by the Ent Cent, which I thought had ample parking, but I have decided every night from now on I shall drive to where I left my car tonight, and walk to the Gov and back. Excellent cardio.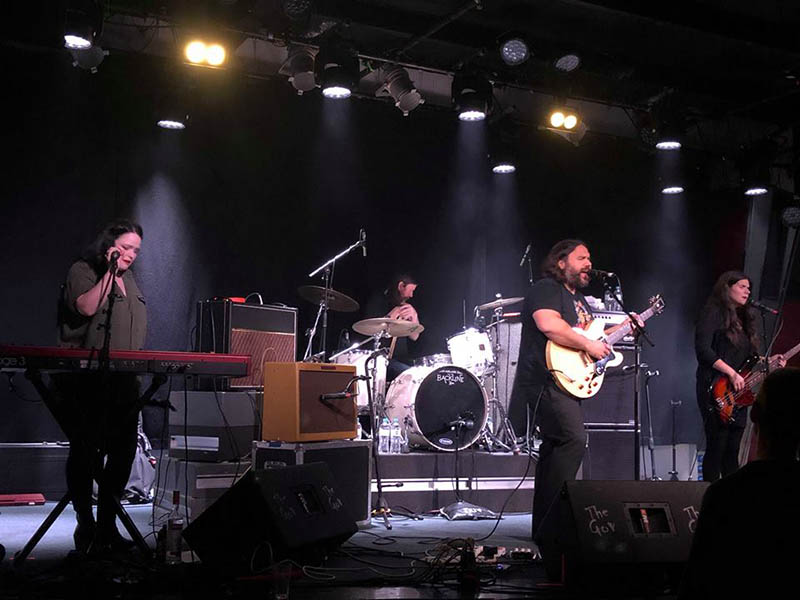 Headliners The Magic Numbers. Rick de Pizzol photo.
I was talking to a friend tonight about different tastes - some people really dislike loud shouty guitar-y stuff. Which is fair enough. Quite a lot of that I find quite dull. Ditto pop stuff - and some people's pop sensibility is so finely honed that's pretty much all they listen to.
Mainstream radio and telly, tho, if you leave that on "for company" I'll just assume you have no taste whatsoever.
Now, while I personally had never heard of The Magic Numbers, they are in fact bloody well known overseas. And somehow word has filtered down to Australia and, astonishingly given the conservative and rather bland tosh which turns up in our mainstream troughs, people here have not only heard of The Magic Numbers, but well-dressed fans turn up on a Tuesday night, braving the parking horror and the bumpkin apocalypse which is the Ent Cent hegemony.
Tonight, Subtract-S open at the unfeasibly early hour of 8pm, and their forceful, rather magnificent pop lays into us by (at deliberately reduced intensity, it must be said, from their usual whallop) and the punters hurrying in. It's rather wonderful to see S-S back on a big stage (which is where they belong), and grand to see how tight and sharp they are, like a favoured pair of boots. The last time I saw them here they were supporting the Buzzcocks - the late Pete Shelley had good advice to offer the band, lovely fella so I'm told.
S-S have shifted their composing gears over the last few months; Paul's guitar seems more thoughtful, with more space for the notes to dig into the songs; Ian's drums are as effortlessly precise as ever; Sam's bass playing is front and centre - he's well and truly a party animal in a tie-dyed Sea Shepherd T-shirt. As for Tom on his ranks of keyboards, he demonstrates the artisitc truth that economy without overkill is effective. For those of you interested,

Subtract-S have a single out. You'll have to get in quick, though, because I believe only 50 were made and they're shifting fast. They're not cheap - but the quality and presentation is excellent. Suggest the quickest way to grab one is by clicking here where you can also grab free downloads of recently recorded stuff.
After Subtract-S have removed their gear (they're bloody efficient) the crowd gravitate toward the stage and the siblings walk on, determined to give us a show. Cleverly, they open with a much quieter song, distinguishing themselves from S-S, before pouring themselves into a diverse and engaging set. Everyone who saw them loved them, including those who (like me) were in modest ignorance.
Imagine a band made up of two brothers and two sisters. If they're anything like my family there'd be blood spilt, media and police (oh, and ambos) called within an hour of plugging in. Somehow Romeo Stodart, (guitar and vocals), Michele Stodart (bass and vocals), Angela Gannon, (keys and vocals) and Sean Gannon (drums) have avoided this particular pitfall and welded a viable career. In 13 years, with suitable breaks in between, they've shot to fame and fortune, released five LPs, numerous singles and walked off UK program 'Top of the Pops' (the first band to do so, apparently); this is the song they should've played:
Oh, why'd they walk off? Well, the presenter was a chap called Richard Bacon (background; kid's show Blue Peter, until he was sacked after 18 months for cocaine use.) Wikipedia offers that: "He has since worked as a reporter or presenter on numerous television shows, including The Big Breakfast, Capital FM, Xfm London and BBC Radio Five Live." Which rather sounds like Mr Bacon has a few ishoos with the rest of the world.
Anyway, The Magic Numbers walked off after Bacon introduced them rather snidely. You'd have thought that surely the last person to belittle a bunch of performers on live telly would be a bloke called Bacon, but there you are. I'm guessing Bacon wouldn't dare be unkind to, say, Rob Salford or Sting or Bono or Devin Townsend.
When The Magic Numbers first appeared in 2005, many people thought that a new era in Britpop had arrived - the media seemed to disagree, though, but you know. The UK media is like a dead patient in an ambo. If someone gets through the cordon and shoves a few volts through it, the crowd hollers 'it's alive' and, because there's not much to do in the UK except brawls over political pie fights, black pudding, football, sausages, Morrissey, spit-roasts, sprouts and avoiding talking about immigration, the crowd talk about how the corpse twitched for the next four years.
Well. Glad that's settled. The Magic Numbers are a band essential to any lover of genuine pop (the term "summery charm" has been frequently, and correctly, used), the kind of pop with nouse, intelligence, and a warm human feeling. Romeo confesses that his guitars are like his friends or lovers, without using those words ('you won't cheat on me, will you?'). He has a lovely voice, and when joined in harmony by Michele and Angela, the result is big, warm, luxurious. Backed with the gloriously toned guitar and the slightly complex, clever rhythms, we have a winning combination.
Sean and Angela are the backbone of this band - yes, I know, what about Michele on bass? She ain't the backbone. She's the power which draws the band with her. She's remarkable, not just because she's an excellent musician, but so absolutely does the music move her that every single note has power and resonance. There's nothing wasted, everything she does has significance. She's a treat to watch - if only because you just know that so many other bass players would be standing there like puddings, plunking away, skipping notes or reducing the effort. She has her own solo career in between The Magic Numbers, too.
The Magic Numbers have developed, of course, since their early pop successes, and I'd argue their songs are better now than before, and that, frankly, is saying something. Melbourne and Sydney have missed their chance to see them by now - but you can remedy your loss by opening the wallet and getting hold of some joyous pop goodness here.
Tags: pop, live, adelaide, english, subtract-s, the magic numbers, Michele Stodart , Romeo Stodart, Sean Gannon, Angela Gannon