Aints add another in Sydney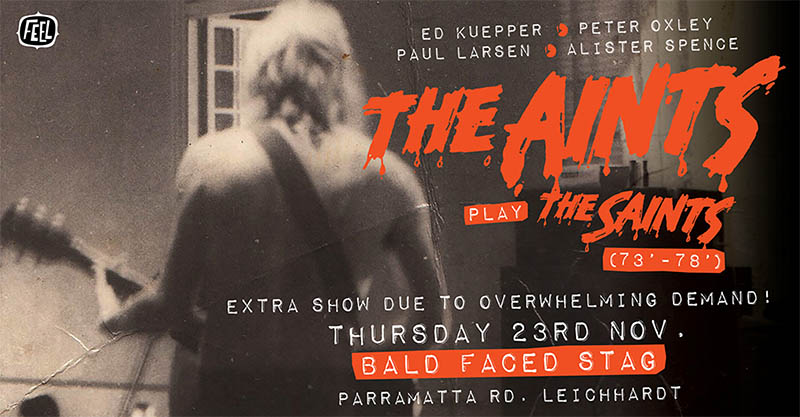 No-one was more surprised than Ed Kuepper when The Aints Play The Saints ('73 - '78) Sydney show at The Factory Theatre sold out so quickly.
Demand certainly exceeded initial expectation and the outcry over social media and the like demanded the band consider a second show.
It will be on Thursday, November 23 at The Bald Faced Stag, in the inner-west suburb of Leichhardt. Tickets on-sale now via

baldfacedstag.com.au
Meantime, the tour proper kicks off in Adelaide in just two week's time. The band is pumped and rehearsals are sorted with a selection of previously unheard Saints material from 'back in the day' added to a set brimming with classics from the band's formative era of 1973-78.
THE AINTS PLAY THE SAINTS
(73' - 78') AUSTRALIAN TOUR
Friday 10th November 2017
with guests Harry Howard & The NDE
Saturday 11th November 2017
Rosemount Hotel, Perth WA
with guests Big Boss Man + DJ Nick Sheppard
SOLD OUT
- Friday 17th November 2017
Caravan Music Club, Oakleigh VIC
with guests The Breadmakers
Saturday 18th November 2017
Corner Hotel, Melbourne VIC
with guests Harry Howard & The NDE & Living Eyes
The Bald Faced Stag, Sydney NSW
SOLD OUT
- Friday 24th November 2017
Factory Theatre, Sydney NSW
with guests Harry Howard & The NDE
& The Holy Soul
Saturday 25th November 2017
Twin Towns, Gold Coast QLD
with guests Mick Medew & The Mesmerizers
Sunday 26th November 2017
The Shed, Sunshine Coast QLD
with guests Mick Medew & The Mesmerizers
Tickets

aussieworld.com

On Sale 1st September