Folk Implosion co-founder's tour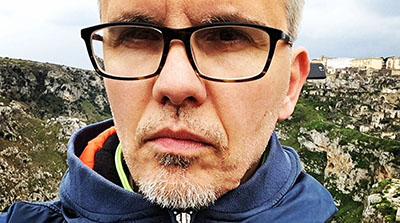 One-time oollege radio favourite John Davis - part of The Folk Implosion in the '90'- is heading to Australasia.
Davis and Dinosaur Jr bassist Lou Barlow co-founded The Folk Implosion in 1993 while the latter was looking for a different outlet to Sebadoah, his band at the time.

Davis left in 2000. He now now records and tours solo and with a band of rotating characters based in Durham, NC, USA.
Davis's June-July 2019 tour of New Zealand and Australia will consist of
 duo shows, with John on guitar and electronics and Rob Chamberlain on drums and electronics. Sets will mix material from John's Shrimper Records solo catalogue (both old and recent), and material drawn from the Folk Implosion archive of the '90's.
Records and merch will be available for sale, including a new instrumental
 release "Gnawing On the Bone".

NEW ZEALAND

Wine Bar, Auckland, June 26

Nivara Lounge, Hamilton, June 27

Voodoo Lounge, Tauranga, June 28

Common Room, Hastings, June 29
Snails Run Artist Space, Palmerston North, June 30
Lucky Bar, Whanganui, July 1
Moon1, Wellington July 4

Settler Theater, Oamaru, July 5

The Cook, Dunedin, July 6

The Barrytown Hall, Barrytown, July 10

Darkroom, Christchurch, July 11
AUSTRALIA

The Townie, Sydney, July 12

Mosh Pit, Sydney, July 13

Gasoline Pony, Sydney, July 14

Brisbane Hotel, Hobart, July 18

Gasometer, Melbourne, July 19
Tags: dinosaur jr, john davis, the folk implosion, lou barlow