Hey Sydney. Who's up for a Day At The Pub?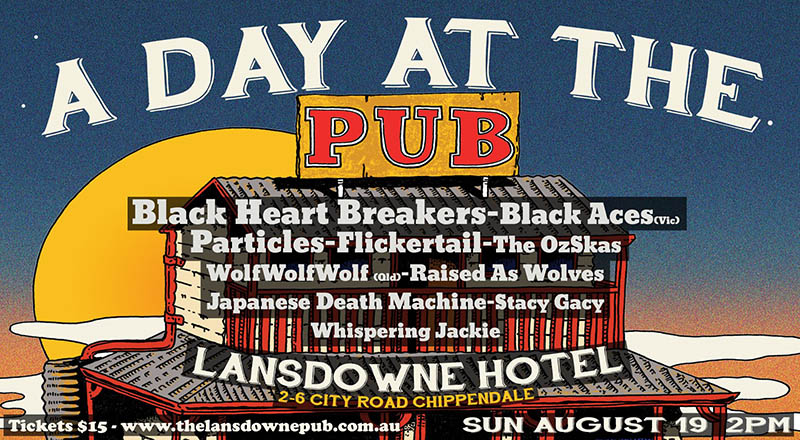 The event name, "A Day at the Pub", is exactly what it says - a Sunday date in Sydney with beer and some of Australia's best rock n' roll acts.
Sydney's Black Heart Breakers have searched through time and space to find a first class line up to bring to you at their home town's legendary Lansdowne Hotel. Tickets for the gig are ridiculously cheap at $15 each and are available here.
The Day runs from 1pm to midnight on Sunday, August 19 and the line-up is a cracker. Here's a pen picture of each band with some Facebook and YouTube links:
Whispering Jackie - Sydney's Whispering Jackie is a trio from the western suburbs playing unapologetic punk music. Their songs tell the experience of trying to forge a life in a city that puts profits before people, where pokies are king, and night culture has all but been snuffed out in favour of large scale development. Watch here.
Stacy Gacy - Like if Refused, Bronx, The Hives, '68 and The Living End were found playing in the back of a basement bar. Watch here.
Japanese Death Machine - Psychotic garage punk trio. With elements of punk and grunge, these tunes will be burnin' for you, and cool riders burn hot, baby. Watch here.
Raised as Wolves - These fine young lads present a very musical brand of punk rock full of loud guitars, raucous drums and catchy choruses. Listen here.
Wolf Wolf Wolf (Qld) - Aside from being purveyors of blistering and irate punk rock, they like to think of themselves as the musical equivalent of Karl Stefanovic the morning after the Logies: residually drunk but getting the job done and getting it done good and proper.
The OzSkas - The Ozskas are an exciting ska/rocksteady/reggae five-piece collective consisting of some of Australia's preeminent names in Ska and Reggae. Watch here.
Flickertail - A four-headed Irish-Australian rock Hydra from Sydney's Inner West, Flickertail, (formerly The Bitter Sweethearts), play guitar-fuelled rock and roll exactly the way it's supposed to be played. Watch here.
Particles - Particles are a two-piece rock outfit, formed in Sydney, Australia in 2016. Comprising of Dan D'Arcy (Little Bastard, Nightowl) and Skarlett Saramore (Fait Accompli, She Rex and many others). The band's sound is reminiscent of, and rooted in modern experimental modern rock, grunge and hard rock. Watch here.
Black Aces (Vic) - The boys from Bendigo, Black Aces, are back in Sydney for the first time since their most recent stint over the pond in the UK. This, their third UK tour in 18 months, was greeted by jam packed shows and rave reviews. Don't miss a chance to catch the boys classic brand of rock'n'roll in the Harbour city! Watch here.
Black Heart Breakers take to the stage with a wall sound. It's fast downstroked guitars, pounding rhythms, sweet harmonies and high energy rock and roll. In between their own tours and playing hundreds of gigs, Black Heart Breakers have already achieved punk rock glory opening up for legends such as Marky Ramones, Stiff Little Fingers, Ruts DC and Radio Birdman. Taking their raw and honest songs about hard times, love, drinking and youth around the country, Black Heart Breakers are wasting no time waiting to be discovered. Watch here.
Spotify Playlist - A Day At The Pub
Tags: a day at the pub, flickertail, black heart breakers, black aces, the ozskas, particles, raised as wolves, wolfwolfwolf, japanese death machine, stacy gacy