Japanese psych master guitarist Masami Kawaguchi's New Rock Syndicate hits Australia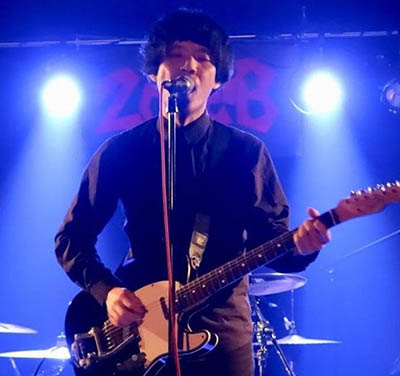 He's played with Penny Ikinger and Deniz Tek. Now, after a sold-out solo tour in 2018, one of Japan's most exciting guitarists, Masami Kawaguchi, returns to Australia for a tri-state and regional tour with his band, New Rock Syndicate.
New Rock Syndicate plays Sydney for the first time on Friday, July 5 at Marrickville Bowling Club, presented by Kasumen Records and the I-94 Bar.
The band will be performing material from the most recent New Rock Syndicate album "Now" ( as well as tracks from limited edition seven-inchers and the extensive NRS back catalogue.
Supports in Sydney are The Holy Soul and Joeys Coop (featuring Died Pretty's Brett Myers).
Masami Kawaguchi presents New Rock Syndicate in Australia with a rhythm section made up of Dave Gray (Rocket Science and The Electric Guitars) and Don Drum (Paul Kidney Experience and Fraudband),
Masami has been a member of some of the greatest Japanese psych bands of the last two decades - Miminokoto (with Acid Mothers Temple Official), Los Doroncos (with Doronco of Les Rallizes Dénudés), Aihiyo (with Keiji Haino), LSD March/LSD Pond feat Bardo Pond.
Most tickets are on sale here.

Ballarat – The Eastern - Friday June 28
Adelaide – Crown & Anchor – Saturday June 29
Warnambool – Dart & Martin - Sunday June 30
Canberra – Transit Bar - Thursday July 4
Sydney – Marrickville Bowlo - Friday July 5
Newcastle – Lass O'Gowrie - Saturday July 6
Port Kembla – the Servo - Sunday July 7
Melbourne – The Tote - Friday July 12
Castlemaine – The Taproom - Saturday July 13
Tags: live, tour, australian, Masami Kawaguchi