Manitoba NYC (aka Dictators NYC) calls it a day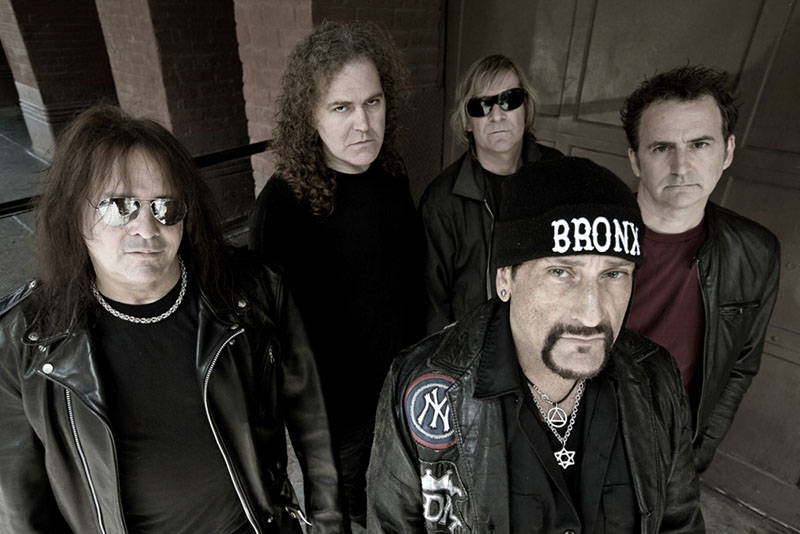 Dictators NYC. From left: Ross The Boss, Dean Rispler, JP Thunderbolt Patterson, Handsome Dick Maniroba and Daniel Rey.
The band formerly known as Dictators NYC is no more. Singer Handsome Dick Manitoba has announced via social media that the band - recently re-branded Manitoba NYC - has gone its separate ways after its just-completed European tour.
Members Manitoba, guitarist Ross The Boss and drummer JP Thunderbolt Patterson were the "last men standing" from the long-running Dictators, following an at times acriminious falling-out with bassist-songwriter and foundation member, Andy Shernoff.
Second guitartist Top Ten bailed out years ago. Bassist Dean Rispler and guitarist Daniel Rey (a Ramones alumnus) were the other Manitoba NYC members.
The Handsome One wrote yesterday on his Instagram page:
Dear fans and friends of the DICTATORS, the DICTATORS NYC, and MANITOBA NYC,
You have been amazing, loving, devoted, fun, and supportive fans that have been there for us over the years…and to those who consider that this WAS, THE DICTATORS ...we have some sad news, at least for the moment... the band in this incarnation is breaking up...people are getting involved in different projects...at least for now and maybe for good.
We all don't know what the future will bring ... but for now, this is the way it will be The good news?..... The great DICTATORS and MANOWAR founder and lead guitarist, Ross "The Boss", is busy traveling the world with his band: Ross "The Boss"...an absolute top of the food chain metal band
Handsome Dick Manitoba, lead singer of THE DICTATORS since the beginning, has put together a slew of NEW songs and has made his first solo album ever...it won't be out for a little while... at the moment the working title of the album is "Born In The Bronx"...the band will simply be called "HANDSOME DICK MANITOBA and the SOUL PUNK KINGS.