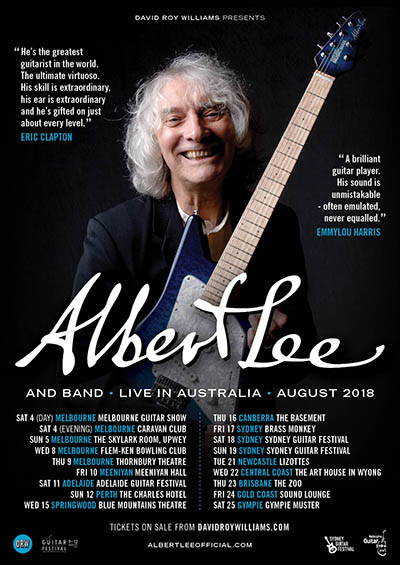 Grammy winning guitar legend Albert Lee is returning to Australia for his first local shows this decade. He'll play a stack of headline gigs across the country, plus make appearances at Adelaide Guitar Festival, Melbourne Guitar Show, Sydney Guitar Festival and Gympie Muster.
Albert Lee is one of the greatest guitarists in both rock and country music history. Included on Albert's cv are performances and recordings with Keith Urban, Tommy Emmanuel, Dave Edmunds, Willie Nelson, Bill Wyman, Carlene Carter, Jackson Browne, Rosanne Cash, Bert Jansch, Herbie Mann, Keith Richards and Dolly Parton.
With a live show that kicks off with a blistering rendition of Fat's Domino's "I'm Ready" and makes joyous pit stops for classic tunes by Gram Parsons, Emmylou Harris, Hoyt Axton, Buddy Holly, Jimmy Webb and Ray Charles, we're assured a sensational night of fabulous music from a man renowned as a living history of rock and roll.
Inspired by Elvis's guitarist Scotty Moore, British born Lee first displayed his awesome chops trading licks with the likes of Jimmy Page and sharing stages with Deep Purple, Humble Pie and Grand Funk Railroad as part of the fabulous Byrds/ Flying Burrito Bros inspired Heads Hands & Feet.
He moved to the USA where he recorded three albums as a member of The Crickets, and then joined Joe Cocker at his peak. In 1976, Albert become part of Emmylou Harris's Hot Band alongside Ricky Skaggs and Rodney Crowell.