The Saints and a 40-year Fatal attraction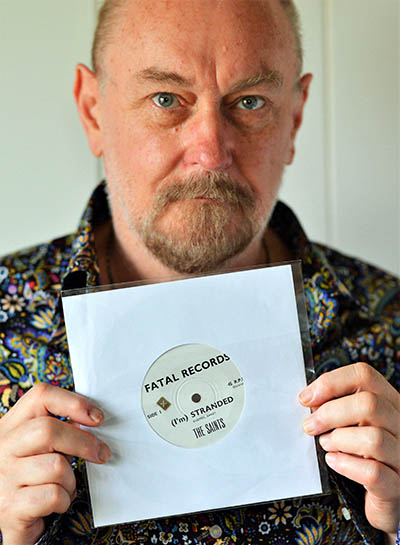 There are a few footnotes to the recent run of super-successful Australian shows by Ed Kuepper and his revitalised line-up of The Aints.
After selling-out or going close wherever they went, The Aints reaped rave reviews (like this and this) and Ed has confirmed the band will record an album in 2018, "The Church of Simultaneous Existence". We can also look forward to more live shows.
The tour also provided a chance for Ed to be reunited with an orignal copy of the "(I'm) Stranded" single on the band's own Fatal Records label from September 1976.
A longtime fan who wishes to remain anonymous secured the impossibly rare 45 in an auction and had a relative present it to Ed at The Aints' first Sydney show - as our Judy Kuepper photo at right attests.
Halfway around the world, onetime Saints bandmate Chris Bailey (who lives in Europe) was presented with another copy, again courtesy of the generous benefactor.
Of course, this year marks 40 laps around the sun since The Saints released their earth-shaking debut single to an unsuspecting world.
And if you haven't had enough Saints already, Kuepper is presenting music from the first three albums in an electric trio, with the Nonsemble strings arranged by Robert Davidson, at Lefty's Music Hall in Brisbane on December 8. Tickets here.