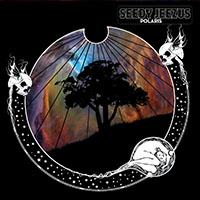 Seedy Jeezus's new record summed up in a pithy double entendre: "Lex Waterreus gives good shred."

It's there in the title track, after a 30-second entrée of post-prog-via-Kubrick sonic meandering, and riding on the back of a thundering grinding Sabbath rhythm courtesy of drummer Mark Sibson and bass player Paul Crick that threatens to split your cerebral cortex into a thousand shimmering metal pieces.

You can check it out in the reassuring "Everything Will Be Alright", unless you want to fix your gaze on the barrelling TV Eye-via Birdman riff that precedes Waterreus's shredding escapades. "Million Light Years" is more intense, a spacewalk curated by Ace Frehley on a diet of acid and early Hawkwind. Waterreus's sometime collaborator and touring buddy, Earthless's Isaiah Mitchell, lends an appropriately heavy guitar hand on "All My Gods Are Stone".