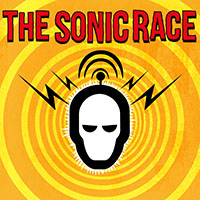 These boys come outta the blocks right at your face and do their best to tear it off. So you're dancing like a middle-aged dickhead in the living room (or I am, anyway), loving the sharp, smart changes, the handclaps, the groove, the bounce and bluster.
Given the band and the song this website is named for (it's not Pinky and Perky, nor New Order, nor The Smiths. Give up..?) it's almost a no-brainer that you'd probably enjoy "The Sonic Race" EP.
In fact, I'd say this: if you'd never heard Birdman, MC5, Stooges, Dictators or the Dolls … or anyone like them, and you heard The Sonic Race… you would go out and buy an instrument and learn how to play it, and drag people in until you could all go out and play like demons and lay waste the countryside.