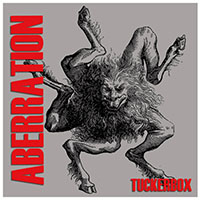 Listen up: This is killer. Ten songs of sharp-edged, driving punk with lots of melodies.
The original Aberration kicked around Sydney in the 1980s as a four-piece, playing New Wave of British Heavy Metal (NWOBHM) inspired punk, sharing stages with the likes of the Hard-Ons and Massappeal before that hoary old chestnut, "lifestyle issues", took 'em out in '86.
Original Aberration singer, Big Al Creed (Hell Crab City/New Christs/Panadolls), is the sole survivorv on vocals and guitar. He's joined by Tony Bambach (ex-Lime Spiders) on bass and Stu Wilson (ex-New Christs, Lime Spiders) on drums.