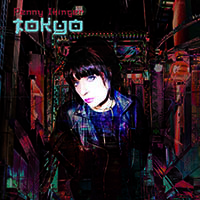 It's a long time between Penny Ikinger records but the results are usually worth the wait. "Tokyo" follows "Penelope" (2010) and "Electra" (2003) and is as evocative as ever but with a slightly rockier disposition.
"Tokyo" was recorded with a batch of top-notch Japanese psychedelic musicians, with heavy input from Radio Birdman's Deniz Tek. The latter's influence is evident - not just in some flammable splashes of lead guitar but also in the odd lyric. That Four Winds Bar sure has done some mileage since being name-dropped by Blue Oyster Cult all those years ago...
Even so, "Tokyo" is very much a Penny Ikinger record. Gone are the days where she needed to be referenced as "a past member of Wet Taxis" or as "Nico defrosted". As clever as that last marketing line was, Nico ultimately shut out the world. Penny embraces its musical possibilities and has her own distinctive voice.