Yesterday's Town - Suzie Stapleton (self released)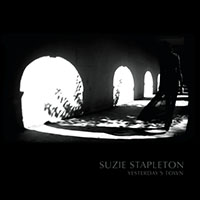 "Yesterday's Town" is huge. You think you know where she's going, but she doesn't take you there. The lyrics are like a stripped-back novella. Suzie really nails the slow/uptempo dynamic with her romantic guitar and sweet and smoky (by turns) voice.
Suzie's been going about her career the right way (photos, film clips bios and downloads here.). She's moved from Melbourne to London and is building a profile. Her production on "Yesterday's Town" is superb, and the song itself begs for mainstream airplay, and I can only assume the majors are scampering with intent toward her right now.
It's difficult to know what to describe first - there's a simple, moody opening plucked out on guitar which drags you in … a pause, then the pace picks up as Suzie's lovely vocal gets our attention, before crunching guitars grip ahold and you're away on a pirate ship, glorious, keel scuffing over the waves, "the sky's gonna open up" … and her voice expands.
The control Suzie has over her voice (alone) is quite magical. Any other solo performer would keep things far simpler, and just grunt it out. Suzie's going for the big achievement and so far her darts are on the red dot.
A single isn't just a single these days. It's a calling card. After "Yesterday's Town" you want to see what she's about on a stage. At the very least.
From the bio: "Suzie Stapleton is a hard act to follow, I felt like a folk singer going on after Soundgarden. She is compelling listening and Melbourne's best kept rock chick secret." Spencer P. Jones
The truth is that Suzie Stapleton is streets ahead of so many singer/songwriters that success seems inevitable - it won't be for lack of trying. Get your free download here: suziestapleton.com





Tags: melbourne, london, spencer p jones, suzie stapleton , yesterdays town