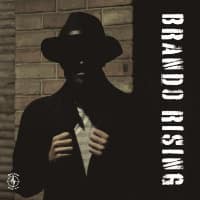 There's an element of impending doom and high drama about the songs of new-ish Melbourne band Brando Rising on this self-released six-track EP - and that shouldn't be a surprise. Vocalist Ripley Hood (Mushroom Planet, ex Gun Control/Funhouse) is an actor on his days off.
If you're into labels, Brando Rising's music is a mix of post-punk hard rock, hardcore and punk. The band cites Dead Boys, Bauhaus, Fear and David Bowie among its influences and you can hear bits of them all. There's also an echo of Massappeal at times (especially on "Sunsets") and "Enough is Enough" takes something of its groove from the New Christs.
"Brando Rising" was recorded as a demo but the band was happy enough with the mastered product to release it. Guitarist Kelly Hewson (another former Gun Control and Funhouse member) did most of the writing.