BARFLY TOP TENS: Penny Ikinger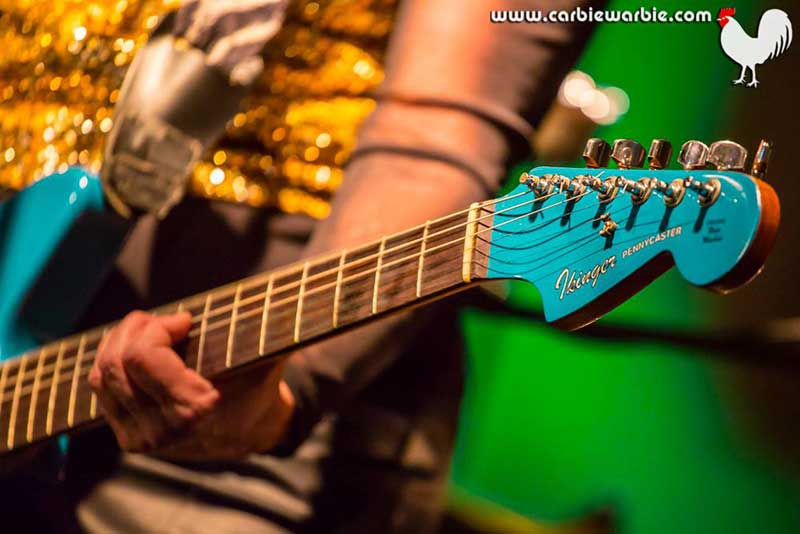 Penny and her trademark Ikinger Pennycastor. Carbie Warbie photo
1. Kid Congo and The Pink Monkey Birds at The Caravan Club, Melbourne - Wow!!! What a band!!! It was like being given a music lesson!

2. Radio Birdman, Max Watts, Melbourne. A really diverse and powerful set of new and old classics.

3. James McCann and the New Vindictives - James McCann's new band is truly awesome - punk meets well crafted songwriting with a good strong dose of youthful & invigorating mayhem. I have been guesting as vocalist and guitarist at their live shows singing a Spencer P. Jones song and another I co-wrote with James for their soon to be released album.
4. The Axeman's Benefit show at The Prince of Wales, St Kilda, Melbourne. A fantastic evening of stars on and off stage, all there for our beloved Spencer P Jones. Headlined by Paul Kelly with performances by the Drones, Renee Geyer, the Johnnys, Tex Perkins and Charlie Owen, Adalita and Tim Rogers.

5. Epic Brass, Memo Music Hall, St Kilda, Melbourne - Presented by Jack Howard & his five piece horn section and fronted by Sean Kelly, Ron Peno, Steve Lucas and Fiona Lee Maynward. I performed a version of the Birthday Party song 'Nick the Stripper'. Not an easy song to sing, I can assure you. I did it my way! Epic Brass performed two sets of the great horn hits and hidden gems from the golden age of Australian rock from The Saints, The Laughing Clowns, X, my first band Wet Taxis and more.

6. Taipan Tiger Girls (Melbourne) - an experimental drone based three piece featuring Ollie Olsen (synthesiser), Lisa MacKinney (guitar) and Mat Watson (drums). Their music is instrumental and takes you on a hold your breath type journey.

7. JOLT SONIC ARTS presents "The Book of Daughters". A sonic showcase of international and Australian artists - experimental and provocative to the ears. Hats off to the phenomenal Satsuki Odamura of The Satsuki Odamura Koto Ensemble and Yoshimi P-We, drummer from Japanese rock band Boredoms.
8. Autotune Everything: Art and the Sonic - a conference bringing together international thinkers and performers across sound art. A real treat for me to be given the opportunity to hear different music and learn new ways of thinking about and navigating sound.

9. "Coelum Versus" (Citadel Records) - Jim Dickson's debut album is an eclectic mix of pop, psychedelia and RnB. Like me, Jim is a late starter in the solo artist dept. I guess it's something you grow into. The years of playing and listening to music somehow seep into you and you spit it out when you're ready. Music is both a journey and a destination. This much loved man thinks outside the box.

10. Melbourne Music - in addition to the Melbourne based bands I have already mentioned Pink Tiles, Wet Lips, Nun, Garry Gray & The Sixth Circle, Los Dominados are some of my favourite acts this year.
Thank you to all those peeps who came to our gigs throughout the year - the faithful contingency of music lovers in Australia. Yes, you! The ones who come to our shows and support our music! We know who you are and we really appreciate your love and enthusiasm for that thing we all hold so dear to our hearts - music! Where would we be without it?! Wishing you a rockin' 2017!
Penny Ikinger is a solo artist based in Melbourne and former member of the Wet Taxis. Her website is here.
Tags: top ten, penny ikinger, 2016