2019 Barfly Top Ten: Peter "Rossy" Ross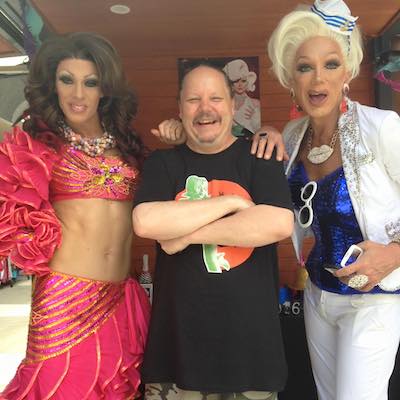 Open Season - Mick Medew and The Mesmerisers
Firstly declaring an extreme bias and a conflict of interest with this one, Mick's second offering from the Mesmerisers is even better than the last. The addition of ex-Tribesmen tub thumper Michael Charles has added muscularity to the band and they go from strength to strength. Some Sydney and Newcastle Birdman supports really won them some new fans. Brian Mann created a stunning sounding record. My fave album of the year. 


Address to the Nation - Chris Masuak and the Viveiro Wave Riders
Again, another declaration as I've worked closely with Chris over the past thirty years. My second fave of the year… beaten by a short nose. Chris writes killer songs… plays guitar better than any player I have worked with and has a band so tight I couldn't slide a fag paper between it. A great album, and it gave us a few wry smiles.

The Festival of Sue (X, New Christs et al)
The shock of Sue Telfer's passing pulled together a stellar line up talent who delivered on an emotional night. There were some killer performances but my top two were the New Christs, whose emotion tinged performance left no doubt that they are a top echelon act… but man of the match for mine was Steve Lucas and X. It was a blinding performance, Steve sang and played better than I have heard the band in years, Kim Volkman & Geof Holmes snarled and snorted like a beast. The Barman and Tiffany Palmer did a great job getting it all together, and we raised a great sum of cash for Support Act. I'd like to think Sue would've approved.


Amyl & The Sniffers
I am so happy to see young bands bringing back the rock. This band, which has quite a nod to Lobby Loyde and The Coloured Balls' legacy for mine, is fronted by Amy Taylor, "one of hardest rocking people on the face of the planet." The raw rocking nature of this band makes them a force of nature.

The Chats
Like Amyl & The Sniffers, The Chats are young, rocking and making a name for themselves at the moment. I love that the Sunshine Coast has delivered a rock act that can write a song like "Identity Theft". Kind of like the surf coast sons of the Cosmic Psychos, they appeal to the garage rock fans under 20.


Kim Volkman and the Whiskey Priests
Kim Volkman brought the Whiskey Priests to Sydney and bought a rock band that was all class. They blitzed the Marrickville Bowlo and made a lot of new friends.

Rose Tattoo and The Hard-Ons - Metro Theatre
I'd been a long time Tatts fan and struggled with Angry's later incarnations of the band and the passing of slide master Pete Wells. I was in two minds about this gig as I hadn't seen the Hard-Ons since a controversial support to the Psychotic Turnbuckles at Selinas in the mid 1980s. I was surprised by how much heavier the Punchbowl punks were since I last saw them, with Kesh out the front channelling Perry Farrell (in a good way) and they warmed the room nicely. The Tatts are back. Make no mistake. Angry and long term slide sideman Dai Pritchard recruited legendary bass player Mark Evans and guitar gun Bob Spencer and their current monster drummer Jackie Barnes. They ripped through the first few albums and showed there is life in the old dog yet. My highlight, and it could almost be the moment of the year, was standing with Barman both of us singing along to Assault and Battery… "There's a law for the rich, a law for the poor, and I'm just a working man."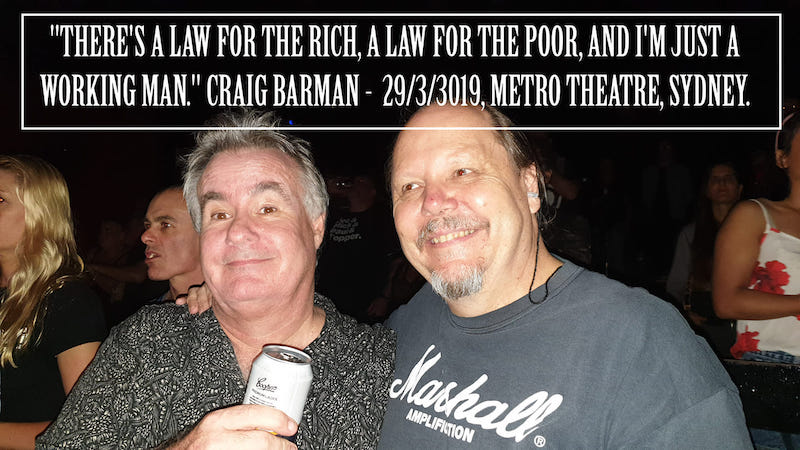 The Johnnys with Chad Morgan
The Johnnys have been drinkin', lovin' and laughin' in their renaissance period. Billy, Hoody and the dangerously under-rated Slim Doherty hit their straps in a riotous Marrickville Bowlo gig. This time, they brought with them the legendary Chad Morgan who laid them in the aisles. From the moment he hit the stage and asked for the house lights to be brought up, he took us on a journey the way only a true entertainer could. He cracked "blue" jokes, told tales, sang songs and had us in the palm of his hand. When he finished the set with an autobiographical song there wasn't a dry eye in the house. It was an absolute honour and privilege to be there.


Poly Filler & The Plastic Bags
A one off Xmas show by a bunch of battle hardened vets supplemented by singer Wiz Traill and ex- X-Ray Specs sax player Rudi Thompson was the surprise of the year. Bass player and MD Steve Lorkin dragged Bob Short and Phil Jacquet into a fun night celebrating the first album of Rudi's old band. They played great, put a smile on every one's dial and finished off 2019 in stellar fashion.
Young Rockers
I've spent a lot of time this year working with younger performers, some as young as 13 or 14 and I am convinced that rock isn't dead. There seems to be a resurgence of the grunge or punk movement and I for one welcome our new teen rock overlords. I think the obituaries written for rock and roll are a bit premature. I am genuinely looking forward to what happens next.
Peter Ross is a Sydney-based Celebrity Roadie who plays bass for Jupiter 5.
Tags: hard-ons, new christs, rose tattoo, chris masuak, kim volkman, mick medew, amyl and the sniffers, mesmisers, vivieiro wave riders