2019 Barfly Top Tens: Ron Sanchez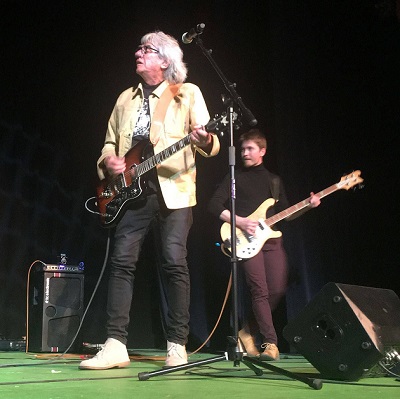 GIGS

Hot Tuna - Rialto, Septermber 10
Veteran duo in electric mode with drummer. As heavy as it gets. Jack and Jorma playing with the same fire they had 50+ years ago. At the climax of one of the extended jams, Jack pogoed across the stage. We got right up to the front of the small venue for full effect.
Tom Rush - Ellen Theater, Bozeman, August 31
An unexpected visit by first division folk singer does not disappoint. At 79 years, he still has his voice and nimble fingers. Funny too. 2+ hour show. He manages to avoid playing any of his signature tunes.
BOOK

Jeff Tweedy - Let's Go (So We Can Get Back)
Well written and very funny. Tweedy weaves a compelling story about his childhood, bands and years of prescription drug addiction. Plenty of insight into the workings of Wilco and his songwriting. One of the best musician-penned memoirs I've read.
MOVIE

So Good I Can't Take It - Aug 2 Ellen Theater Bozeman
Kirk Leclaire document's the Montana music scene of the' 70s and '80s. Jeff Ament and Steve Albini figure large in the story. I get some face time too, though I only just make it into the time frame. Donovan's Brain music is featured. A great story of small town misfits tearing it up and terrorizing the locals. A universal story that can be enjoyed even if you didn't grow up in Montana. A Donovan's Brain MK 1 reunion followed the screening.
RECORDS

Green Ray - "Five Points Of Light"
London band survives the deaths of four members over the last 18 years and emerges with their most consistent album. Folk tinged songs, with extended guitar explorations. The original lineup featured two ex-members of Help Yourself. (Richard Treece and Ken Whaley also recorded with my band)
Malcolm Morley - "Infinity Lake"
Former frontman of the legendary '70s UK psych band Help Yourself. Malc's third solo album and it's a stunning effort. Singer songwriter with rock band. This is the real follow up to the classic Helps albums. Malcolm was also a member of the Welsh band Man and had played with Kirsty Mccoll, Wreckless Eric and Donovan's Brain.
Green Pajamas - "Phantom Lake"
West Seattle based band has a strong connection to Australia, with albums released on Tony Dale's Camera Obscura label. Their long history dates back to the early 80s with many highlights. This just might be their best album.
Young Fresh Fellows - "Exit Ramp"
Scott McCaughey and the crew still going strong 35 years later. This band released album is the precursor to their next major label release. Half the songs are from the final sessions at the famous Egg studios.. The other side gathers ups some stray track. The result is a unified killer. An American treasure.
Jimi Hendrix - "Song For All The Groovy Children"
A nearly complete document of the Band Of Gypsies show from New Years 1969. I'd never been a big fan of the original Band Of Gypsies album, a contractural obligation owed for a piece of paper signed before Jimi left for London. Two years ago the complete first set from the two nights was released as Machine Gun. Hearing the set in the original running order, complete with stage banter shed a new light on the matter. The flow of the set just made a lot more sense than the original BoG album. The Fillmore East album released a few years ago was comprised of rough mixes done to review the tapes from the two nights. No attempt was made to reconstruct the original set lists. Paul Allen, from Microsoft had acquired the multi track tapes and wasn't sharing them at the time. The new set is remixed and restored. Some of the tracks on the original album had be edited.
Now we have all four shows, thought the December 31 late set seems to be missing five songs due to tapes running out and apparently some performance issues. The results are superb. One song, a cover, is new to this set. The lack of Experience material shows Jimi determined to move forward. That said, the versions of Hey Joe and Purple Haze are not throw aways. One of the last big missing pieces of the Hendrix catalog.
Guided By Voices - "Sweating The Plague"
GbV are a band that works in their own universe. "Plague" is their third release of the year, and maybe the best. It's difficult to tell, as they come so fast it's hard to keep up. Unlike the previous album Warp And Woof, this is fully realized songs. Made a bit heavier that they've done for a while too. Apparently the next album has already been recorded. There is no reason to expect a band to be so consistent. It would be easy to say they just keep making the same record over and over, but that would be a false assumption. The best band in the US? Dunno, but they are the most fun.
ALSO...
All the great music I bought at the thrift store this year. 2019 was a banner year for vinyl collecting. A trip to Denver gave up a generous stack of gems. A change if personnel at our local thrift meant that vinyl was once again appearing on the racks. A cluster of 1968 singles, mostly unplayed promos yielded some unexpected finds including a rare Small Faces white label. Other killer finds included Carolyn Sullivan and Peter Parker. A vacation to New York allowed time to nip into Angry Mom in Ithaca where more was added to the collection. Back in Montana a visit from Jim Dickson and Penny Ikinger meant a trip around the shops in Bozeman and Billings. Our friend at Oxford Antiques gladly gave us a deal on the stack of albums we pulled from the stacks. Another round of finds at the thrift finally put a copy of the Rivieras album in my collection. Of course all these get spins on my radio show. It's not hoarding, it's all to share.
Ron Sanchez is the co-owner of Career Records and leader of psychedelic collective Donovan's Brain. He broadcasts on KGLT-FM out of Bozeman, Montana.
Tags: penny ikinger, jim dickson, jimi hendrix, donovan's brain , ron sanchez, hot tuna, tom rush, jeff tweedy, young fresh fellows, guided by voices