Atomic Zeros - Atomic Zeros (Atomic Zeros) and I Hope You OD - Bad Mojos (Voodoo Rhythm)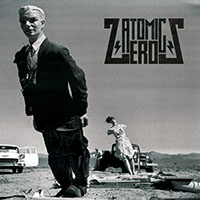 It's been argued over, and if you fancy arguing again, go right ahead. I'll wait.
Finished?
Okay. Before punk was PUNK (as it was decreed and seized upon by the black leather beetle backs), there were bands which formed a sort of disaffected underbelly. There were loose things in common.
Some of these bands were utterly alien to the world at large (I'm looking at you, Suicide, Chrome, Pere Ubu), their forefathers being outfits like The Velvet Underground and The Stooges; while others were, by contrast, relatively straightforward. Like the MC5 and later, Radio Birdman.
Even so, this was not only emphatically not straightforward at the time, it was as alien to the ruling beerfathers as a bloke in a pink pair of shorts in parliament (albeit an Adelaide parliament, but hey, whaddaya expect from that town. It's fulla pooftas).
Since 1976, the world has moved on, not just forgetting this recent past (don't get me started on the pre-hippy underground in the UK, alright, nor how some beats skipped Mod and went straight from collar-length hair, beards and dope and went straight into viking-length hair, mung beans, brown rice salads and Traditional Family Values - which meant that the men talked bolloc- sorry, politics, while the women cooked and scrubbed the floor) where was I?
Oh, yes. The world has moved on. Ever so much. And for the last 20 years or more we've been seeing increasing numbers of bands reaching back and finding that, surprise surprise, their inspiration comes from music made nearly 50 years ago.
Atomic Zeros are a five-piece Spanish outfit who can play rock'n'roll like demons, go surfing and drink like bullfighters after a particularly nasty bull-horn gouge has ruined their best pair of tight red head-of-the-penis-exhibiting pants.
Inspiration - well, it's various, but think MC5 and Radio Birdman, with a dash of colloquial Chris 'Klondike' Masuak chucked in. In fact, it looks like this outfit are folks you've probably heard before ...
The cover is heavy on the '50s/early '60s atomic age stuff - dummies leaning in the wake of an atomic explosion, US Navy servicemen in deckchairs on a carrier flight deck wearing 'protective' dark glasses (like geeks in a 3D movie theatre), and lastly, the loading of the 'Fat Man' atomic bomb (dropped on Nagasakiand named after Winston Churchill (in the spirit of the US/UK 'special relationship').
In fact, if it weren't for the songs, "Atomic Zeros" is worth getting just for the package.
Ah ... the songs. Big scything guitars fill the room over a churning rhythm section and a bloke with a voice to equal them. No let-up, it's a squalling surf rhythm which yanks you outta that boring there and into a real life now, a constantly attacking, slashing free-fall. The guitar changes are swift, accomplished, powerful, the solos are brief, pointed and perfectly judged, and the lyrics are pared-down and simple, their use of menacing, hovering feedback rather bloody lovely. Kind of a biker Highway I94 burnin'n'shootin' road trip, or maybe a Thelma and Louise verminatin' chase through Monument Valley.
Anyway. I've had "Atomic Zeros" for about six weeks and I keep turning it on; and it's the kind of disc you have on in your car on repeat, repeat, repeat and repeat again and just never take off.
Mind that immobility scooter, Eugene; whups, too late.
I'm sure no-one will notice the scratch on the side of the car.
Or the handprint.
Very, very few bands get this close to creating the surging, emotive wall of guitar assault whose hallmarks are both tuneful and a measured ferocity. Many of us saw Senor No last year; I can't imagine a better Spanish bill than Atomic Zeros, Chris Masuak and The Viveiro Wave Riders, and Senor No. Now that would be a bill worth emigrating for (the weather's more interesting in Spain anyway).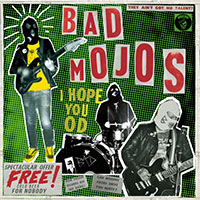 The Bad Mojos, on the other hand, are kinda reminiscent of that part of Rocket from the Tombs who split off to form The Dead Boys. In the spirit of the period, this three-piece splinch out 10 quite short songs which do that staccato stop-start jerk-apart action which was a hallmark of The Ramones (you know, when the song isn't so much about the tune or the chords as the constantly falling down, getting up, falling down rhythm itself, so fast it's almost a hum).
Also present is the knob-head humour and attitude of The (early) Damned. The songs boom and cram themselves down your gullet so fast you're into the third song before you can turn around, when you notice, rather guiltily, that you've been dancing round the room for the last four songs, no, five, and you've knocked the christmas tree out the window and the dog's howling.
To make it plainer, the sleeve and notes show a band who, if you squinted only slightly, look like they've tumbled out of the 100 Club in late 1976. "I'm feeling fine/ Being juvenile/ Let's commit a crime"
And they may be using an extremely nasty distortion pedal.
There are strange, almost eerie similarities between Atomic Zeros and Bad Mojos, too; for example, song titles like "Out of Control" and "Baby, I Don't Care" sit well alongside "Commit a Crime" and "Baby, I'm Doomed" as do "Devil Inside" and "Diablo" alongside "I Wanna Be Dead", "I Hope You OD", and ... er..."Out of Control".
Like I say, there's commonality of intent which these two bands share, despite their very different approaches. The result is two discs which, once on the turntable, you don't want to turn off.
Lastly, the Atomic Zeros and the Bad Mojos share one vital, very important thing: if you'd never heard anything like this, you'd want to dance, or form your own band, or both. At once.
Get 'em, play 'em loud. Dig 'em, or don't.






- Both
Tags: voodoo rhythm, bad mojos, i hope you od, atomic zeros