Brian James – Brian James (Easy Action)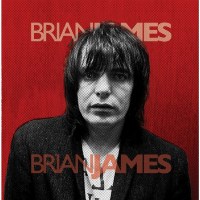 Brian James recorded this in 1990. That's post-The Lords of the New Church, when his co-founding of The Damned was a shrinking image in his own career rear vision mirror. It was his debut solo album when it came out on French label New Rose, yet it barely rates a mention in summaries of his back catalogue.
Cue: UK label Easy Action to right that wrong and drop a big, fat vinyl re-issue.
If Brian James had only played on all (and written most) of "Damned Damned Damned" and then pulled a Jim Morrison by growing a beard and a beer gut and bunking off to live in obscurity in Africa, he'd still be remembered as one of British punk's great progenitors. The guy was equally integral to The Damned's second album, "Music for Pleasure", too but the band disowns that one for its lame production.
Let's fast-forward from his split with The Damned in 1977, right past his work with Stiv in The Lords, collaborations with Iggy Pop, Wayne Kramer, Chris Bailey and members of the Pink Fairies, and get to this album.
He'd met New Rose founder Patrick Mathe at a Saints recording session in London at the end of the '70s. How either of them remembered is a miracle because they were drinking mates with Chris Bailey. Boom-tish!
Ten years later, a band-less James shopped a couple of demo's to the label who offered him time in a Belgian studio. James took bassist Alan Lee Shaw (from his late '70s band Tanz Der Youth) and drummer Malcolm Mortimer.
The first thing that hits are the riffs that come tumbling out, self-assured and one after another. The songs are basic with no embellishments. It's a man, his guitar and his band. And that omnipresent guitar tone.
Now, Brian James is never going to be a Bob Dylan in the lyrics department, and he has a classic Guitar Player's Voice, so he really was playing to his strength here.
Cock an ear to the raggedy riffarama of opener "The Twist" with its stuttering handclaps and winding guitar. "I Said No" features some especially withering guitar and you can hear the influence that "Raw Power" was on the younger Brian.
The shuffling "Cut Throat" is Brian's "Buck's Boogie" with a highly-strung vocal and an even tighter-wound lead-break. Again, it's simple and effective.
A couple of songs sound underdone - the instrumental "Bibbly Bubbly Crisis" might have been a work-in-progress - but let's be honest: If you're looking for Ray Davies style storytelling you probably don't go playing a record by someone who did time in a pre-Pistols Malcolm McLaren project called Masters of the Backside.
"Cut Across Shorty" is a Gene Vincent cover (also appropriated by Rod Stewart) whose light finger-picking sits oddly until you read the liner notes about it being included to surprise and/or delight old Lords bandmates and crew who'd had to endure drunken post-gig renditions.
The punk-noir "FBI" and "Polka Dot Shot" are bonus tracks absent from the original LP and worthy inclusions.

Tags: easy-action, saints, chris bailey, the damned, brian james, new rose, music for pleasure, damned damned damned