(When The Sun Sets Over) Carlton: Melbourne's Countercultural Inner City Rock Scene of the '70s - Various Artists (Festival Records)

Firstly, a big thumbs-up to compiler David Laing who is very much responsible for bringing us old bastards the best Australian '70s and '80s sounds that need to be re-issued (think "Do the Pop!" compilations, the Hitmen and Screaming Tribesmen reissues.)
Laingers (as we call him) has moved HQ from the "indie" Shock Records to the multinational Warner Music and has already unleashed cool comps of '60s Aussie garage ("Down Under Nuggets") and 70s Aussie hard rock/ blues ("Boogie"). Now we have this fine collection of '70s Melbourne treats.
If you're looking for a tidy pigeon hole for this compilation you probably won't find one. The front cover calls this "Melbourne countercultural inner city rock of the '70s" and that's as close as you will get. It has a few national hits that could be seen on TV on Countdown, crossing paths with proto punk , as well as some Zappa/Beefheart /Lou Reed /Roxy influences. Toss in some rockabilly, white guy blues, plenty of social commentary and a shit load of drug taking, I suspect.
The key link between the tracks seems to be very strong songwriting, tight playing and a ton of non- metal guitar crunch. The demo quality of many of the tracks greatly adds to the charm.
The comp kicks off with the big names and hits. Skyhooks' "Carlton" (is this version possibly a re-mix?? It sounds tougher then I remember) is a perfect start with its punchy production by Ross Wilson. Guitarist Red Symonds (now a mainstream radio / TV celebrity in Australia) really is one of this country's most underrated and imaginative guitar players (have a listen to this tune with headphones to really appreciative how well he and Bongo Starkie worked together.)
The Sports' original 7" version of "Who Listens to the Radio" is here and it's my favourite version of this track (there are several other versions recorded which lacked the spark of this first recording). It's a cool late '70s rock pop tune and Steve Cummings' vocals have a great vibe (in a gutsed-up Van Morrison kind of way), however it is the obscurities that follow that are the real gems. The Bleeding Hearts (who included future Sports guitarist Martin Armiger) could best be described as punk rock if punk rock had never happened (does that make sense?) and there is a snotty, Lou Reed cockiness to their two tracks (one of which, "Boys", was later re-recorded by Sports.)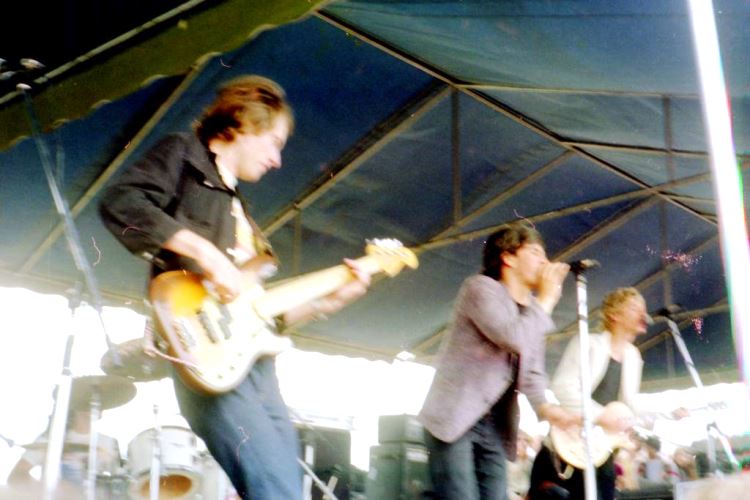 Sports at the last 2JJ Concert in Sydney. Steven Danno photo
Daddy Cool may have a reputation as a semi-novelty, '50s-inspired act (thanks to their hit "Eagle Rock") however the track "Boy You're Paranoid" has a very cool '70s Stones meets Mothers of Invention vibe. Very interesting, too, is Daddy Cool's previously unreleased pre-Skyhooks recording of the Greg Macainsh song "Saturday Night." Oddly enough, a story circulated during the '70s (started by a hoax story in Ram Magazine) that Macainsh's songs were really composed by Ross Wilson, which hysterically enough ended up going to court as Wilson's publisher was furious (allegedly.)
There are other interesting highlights spread over the 45 tracks here; The Dots (with some bloke named Paul Kelly on vocals) has a nice chunky, almost Oz Rawk-meets-power pop sound (not unlike Perth band The Boys.)
The Zappa influence again comes across in proto-supergroup (is that term possible?) The Pelaco Bros, whose line up included young folks Steve Cummings (pre Sports) & Joe Camilleri (pre Jo Jo Zep). Their track "Mechanics in a Relaxed Manner" is way out, bluesy and wails!
The highlight of this set may well be Martin Armiger's "I Love My Car" (check out the grunt at the 32 second mark…AWESOME!) The Flamin' Groovies could have done a great version of this during their Roy Loney era (and that, my friends, is a huge recommendation.)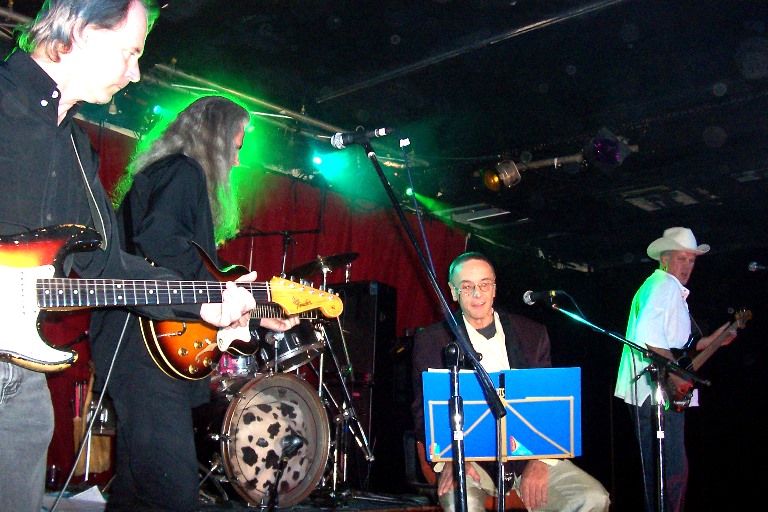 Sadly Steve Hill passed away on 31st October 2005. His final wish was to play one last show with his Skyhooks mates,
which he did on 13/9/05 at the Annandale Hotel, Sydney. Steven Danno photo
An early (pre-Shirley Strachan) demo of the Skyhooks track "Hey What's the Matter" featuring original vocalist Steve Hill (who had a bluesy, Matt Taylor style) really adds a new dimension to the song. I would have liked to have heard Hill's take on "All My Friends Are Getting Married" on this comp as his dirty, sleazy vocals do really suit the song
Not all of the tracks on this are worth more than a few listens, but judged overall this is a vital slice of previously lost Australian '70s music history and it deserves to be cast in stone in a museum somewhere. Now Laingers…how about a Sydney '70s counterculture comp??




Rating??? 3 Carlton Beers out of 5 Tooheys
Tags: when the sun sets over carlton, jo jo zep, sports, stephen cummings, skyhooks, paul kelly