Cmon, get Hammered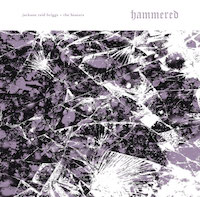 Hammered - Jackson Reid Briggs and the Heaters (Grubby Publications/Beast Records)


"Hammered" is a term I associate with a different era. A time of binge weekend drinking, gratuitous displays of alcoholic masculinity, bloviated local sporting club identities, sub-optimum musical soundtracks (I'm sure I remember hearing Dennis Leary's "Asshole" about 63 times one Saturday night after a long day in the field) and bleary-eyed Sunday morning recoveries. They were best of times, but only until you come to your senses.
But Jackson Reid Briggs and the Heaters get you "Hammered", it's a thing of perennial excellence, an ordeal that makes you stronger, better, all the attributes you thought that slab of Southwark Premium was going to do.
It's a killer start – "Always Takes Time" takes no time at all to put you in a mood of Saints-in-Cleveland punk rock mindfulness. You're there, so why leave, when the stakes will raise in the one-inch punch attack of "Knock It Down"?
There's a lobe-slicing Fugazi-esque riff loitering in the background of "Hide Away", as Jackson Briggs squalls his way into your brain. "Useless" is anything but that, all down and dirty, laced with attitude and invective. Take a trip into the brown lysergic realm of "Into the Red" and you're on a path to a higher place, with a thumping beat to boot.
"Hammer" invokes that insidious meat-and-three-veg rock riff crusty old rockers will tell you has been sacrificed to the gods of insipid rock, but fuck that jaded shit, this band knows just where to find it. And you're still not convinced, hang around for "Rented Fists" and it's two-speed Eddy Current-via-Pagans frenzy.
"You've Got It Now" is 94 seconds of distilled rock'n'roll attitude with a lilting keyboard melody to take the edge off and 'It Was Down' swaggers like a motherfucker, whatever that means.
There's a school of thought that Jackson Reid Briggs and the Heaters are the best thing going in the Melbourne rock'n'roll scene at the moment. Someone told me that in a pub, so it must be true. And if you don't believe, get "Hammered".



Jackson Reid Briggs and the Heaters on Bandcamp


Tags: melbourne, beast records, Jackson Reid Briggs and the Heaters, hammered, grubby productions