Come take a trip in Cinemascope with The Ramalamas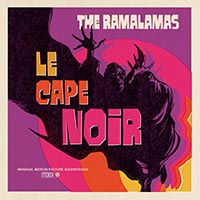 Le Cape Noir – The Ramalamas (Half a Cow)
This soundtrack to an imaginary '60s cult movie, or so the shtick goes, is really a collection of intriguing garage-swamp pop outbursts by enduring but low-key Sydney band. It's the fifth long-player by The Ramalamas and their first on vinyl.
"Le Cape Noir" is a celebration of ADHD. It swings from surf-tinged rockers to garage pop and back to spy movie instrumental in the space of a few tracks. Its 16 (yes, 16!) songs are broken up by snatches of spoken word faux movie dialogue.
Sit back and let it wash over and you could be sitting in the Valhalla Cinema at Glebe watching a cult film, and ending the night stumbling out of the Sydney Trade Union Club at 4am.
There's a confidence and occasional delicacy in the right places that makes it evident these guys know what they're doing. Juxtaposition can be a risky thing but in these hands, it works.
The mod psych "Moondog" wrestles with the swampy "Night Tide" and rubs up against the redneck rebel yell of "Ain't No Grave" without seeming like the work of different bands. A little country, a b it more pop and the odd spicey instrumental, like the whimsical "Love Theme From Le Cape", just adds to the fun.
Jazz and psychobilly collide spectacularly in "Death In The Pot", while Peter Kirwan's snaking guitar on "Crawling" would have been at home in an early Le Hoodoo Gurus set. "Phantom Hayride" is the hit single choice and Chris Nielsen's vocal nails it.
Then there's the dual-guitar spark of "Nine Volt Spark" and the withering lashing of "Sweet Tooth" where The Ramalamas recall Adelaide's Green Circles.
Don't worry that there are too many songs to make "Le Cape Noir" sonically viable for vinyl; they're economical for the most part, and the self-produced sum of the whole sounds great.
Head over to Half a Cow's Bandcamp and indulge yourself.

Tags: garage, surf, half a cow, ramalamas, le cape noir