Cultured pop-rock from an unlikely place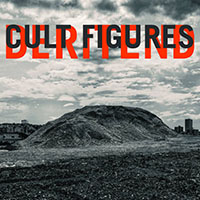 Deritend – Cult Figures (Gare Du Nord Records)
If pressed to name a heartland for rocking hard pop you don't normally nominate Birmingham. Call it the loudmouthed opinion of an Aussie who blew in once to drink some warm pints, but its Industrial Revolution décor and shitty weather makes it more of a Black Sabbath kinda place.
Of course the West Midlands of England has pumped out its share of pop (Duran Duran, anyone?) but, musically speaking, if you'd heard of Cult Figures you wouldn't put them be among that crew. (Fun Fact: Roger Taylor drummed for them for one show.)
Cult Figures were a blip on the post-punk radar after releasing a couple of singles on the label run by Swell Maps in the late '70s, and never made a full album (with a substantially different line-up) until 2018. So this is a pleasant surprise packet.
Unlike many Pommy beers, "Deritend" (named for the industrial suburb of Birmingham) is one addictive brew. From the chiming opener "Chicken Bones" to the catchy-as-Corona closer, "Privilege", it's hard-edged, harmony-laden rock-pop.
Recorded at Toe Rag Studios in London (Billy Childish, White Stripes) and Woodbine Street in Leamington Spa (The Specials, Paul Weller), this is a remarkably vibrant record of songs commenting on the human condition and contemporary societal themes. Built around original members Jon Hodgson (guitar) and singer Gary Jones, Cult Figures throb with energy and hard-arsed melodies.
Jones has a no-nonsense set of pipes and declaims the lyrics in a distinctive accent like he's after your attention. Hodgsdon and guitar partner Barney Russel lock in adroitly and add grit to the pop hooks.
There's a lot to like in the undulating "Exile", which is as pretty a piece of psychedlica that you're likely to hear this year. The doomy "The Omen" sits well beside it and it's almost too obvious to say Jones is echoing Ian Curtis in his sombre delivery.
"Concrete And Glass" is a semi-spoken treatise on urban consolidation and the future that doesn't go anywhere but still satisfies. "Lights Out" has a whistling solo that's hard to get out of your head, and "Silver Blades" is more effervescent than one of those warm English beers. And then the hard bass of "Camping in the Rain" recalls Gang of Four with a dash of psychedlica to underline the album's diversity.
"Entitlement" is smart pop that rocks royally and a fitting final song.

1/4
Tags: birmingham, swell maps, cult figures, deritend, jon hodgson, gary jones