Dave Alvin's supergroup will be on your Mind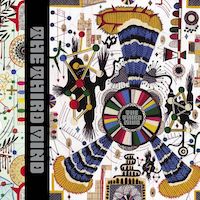 The Third Mind - The Third Mind (Yep Roc)
The way Dave Alvin tells the story, the musical modus operandi was derived from a Miles Davis biography that described the jazz giant's approach to studio improvisation. In short: pick a key, hit a groove and play without rehearsing. The title and band name (I think) have been swiped from a William Burroughs book.
"The Third Mind" (the album) is six long songs, comprising one original and five covers originally made by US underground luminaries of the '60s - Alice Coltrane, Michael Bloomfield, Fred Neil and Roky Erickson. The Third Mind (the band) is guitarist Alvin (The Blasters) and bassist Victor Krummenacher (Camper Van Beethoven, Cracker, Monks of Doom), guitarist David Immergluck (Counting Crows, Monks of Doom, John Hiatt), and drummer Michael Jerome (Richard Thompson, Better Than Ezra.)
If The Blasters had loose stylistic boundaries that spanned rockabilly, country-blues and rock, The Third Mind shows even less respect for genres, diving headfirst into psychedelia and ethereal space rock without the slightest concern for airplay.
The gripping instrumental, "Journey in Satchidananda", sets it up from the start, an eerie flurry of notes in the intro recalling Tom Verlaine's "Warm and Cool". The heroes here are the interlocking guitars of Immergluck and Alvin, sprinkling licks like confetti on a shag-pile carpet of bass and drums.
You may not be familiar with all the songs but don't worry. It's a fair bet that all the band members didn't know them backwards, either. That sense of spontaneity that comes from sympathetic players standing in a circle in a studio and sparking off each other is no less unmistakable in The Third Mind's cover of The Butterfield Blues Band's "East West", where they do some of their best work.
Even those among you who are less a Television obsessive than me will find striking similarities to the Lloyd-Verlaine brand of weaving when the guitarists take flight, even if their tones are markedly different from those of the Marquee Mooners.
Fred Neil's "The Dolphins" is warm and folky with Alvin's vocal holding court before the song soars on more of those guitars. "Claudia Cardinale" is another fetching instrumental.
"Morning Dew" has been trotted out by everyone from the Grateful Dead to DEVO, Einstürzende Neubauten and Robert Plant, but it was originally a doom-laden tune by a Canadian folk singer name Bonnie Dobson who'd seen apocalyptic flick "On The Beach" one too many times. The Third Mind make it an opus - not so a Grateful Dead noodle fest as a fireworks display of guitars, but with some subtle touches.
Th closing cover of the Elevators' "Reverberation" that closes the disc isn't a letdown. It's more abrasive and less weird than expected - a jug player would have been too obvious - but the late Roky would probably smile enigmatically if he could hear it.
The Third Mind is not so much casual fun as a studio stunner. Cut your credit card's chains and slap down some hard-arned for a copy here.



1/2
Tags: yep roc, the third mind, dave alvin, blasters, Victor Krummenacher, Camper Van Beethoven, David Immergluck, john hiatt