Disintegrate Me - Professor and The Madman (Fullerton Records)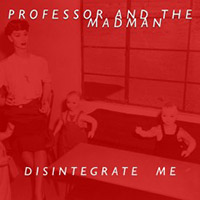 What do you get when you mix two veterans of the SoCal punk rawk scene with a couple of its UK equivalent's most storied names? This here disc, guv'nor, and a fine slice of rockin' psych-tinged pop it is.
Sometimes worlds collide in the best way possible and here's a prime I'll-have-one-thin-and-crispy-with-the-lot-and-don't-forget-the-anchovies example. Genres are less a restrictive tag than a challenge for these guys.
Alfie Agnew (a real-life maths professor) and Sean Elliott (he'd be the madman) are the US-based principals in Professor and The Madman. The pair played together in D.I., a long-running off-shoot of the Adolescents and Social Distortion, the former being from where Agnew came.
Rat Scabies, of the (stillborn but legendary) London SS, The Mutants and of course The Damned, was co-opted as a recording member after guest-playing "Smash It Up" with Agnew and Elliott at a US show. The hook-up with Paul Gray - surely the best bassist The Damned ever had (and he's back with them now), whose prior form includes Eddie & The Hotrods and UFO - came via Facebook.
That the band members live half a world away from each other was no barrier. A helluva lot of recording time and file-sharing later, "Disintegrate Me", was birthed. Agnew and Elliott alternate on vocals and both play guitar and keys. Scabies and Gray - well, you know what they do.
There's lots to love about "Disintegrate Me" and at the top of the list are unabashed energy and hooky goodness. If you think "Strawberries" is the real gem in the long and winding Damned catalogue for similar reasons, you'll take to "Disintegrate Me" like a gig pig to a mosh pit. This is a record that touches on members' legacies and takes the direction somewhere else.
Opening cut "Nightmare" sneaks up with a Gothjic schlock-rock keyboard intro before exploding as a raucous balls-to-the-wall punk rocker. Gray's careering bass-line is a stand-out.
Elliott sings and co-opts both the Beatles and Bowie for inspiration in the psych-pop "Space Walrus". Well-named if obvious. The piano-meets-guitar middle eight is a classy touch. You may dwell in admiration on the ballad "The Mirror" but I'll beg to differ. It's mid-album change of pace but its portentous sound doesn't do much for me.
"Useless" and "Machines" more or less fit into the SoCal sound to these ears - a blessing or a curse depending on how much of The Offspring you were exposed to in the '90s. Meh. Gimme Black Flag with Keith or maybe Social Distortion. "Machines", especially, is a keeper.
"Faces" and "Wishes", on the other hand, is a pigeon pairing of beat pop. "Wishes" lays on another sterling Paul Gray bass-line and gets off on a rush of melodic pop smarts. "Faces" is delivered with a plaintive vocal and some beefy guitar. Cascading fills from Rat turn up the energy to 11. It reeks of The Creation - and that's a very good thing..
Also logically paired, towards the back-end of the record (and this one comes as a CD or LP), are "Demented Love Song" and "Electroconvulsive Therapy". Thematically speaking, Alice made it to the madhouse first with "Ballad of Dwight Fry" but he never strayed into country, which "Demented" does.
It's less a curiosity piece than a country pop shuffle that works. It's about a snowdroppoing (underwear-swiping) stalker and the song's light nature belies a dark streak - it's like "Psycho" on happy pills. "Electroconvulsive" is about the rubber room confinement that follows, and switches to grungy rock and primal screaming. Rat Scabies' rolling drums are all over this one and it's a fine closer (although there's a neat seasonal bonus track appended, "Xmas Eve", that sounds like The Kinks with Ray and Dave having a punch-up.)
Professor and The Madman are touring their Californian backyard in February, with local players subbing for Gray and Scabies, and there's talk of a possible UK run with the Poms. Sounds like a plan.




Tags: rat scabies, the damned, paul gray, the descendents, D.I., eddie and the hot rods, UFO