Double vaxxed ain't nothing until you're double bugged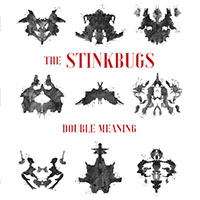 Double Meaning – The Stinkbugs (Swashbuckling Hobo)
Drop the needle in the groove. Ready? The pedigree tells you a lot: Hekawis and Shutdown66 among prior convictions. So does the opening track, "Atom Bomb": Extreme fuzz guitar and basic, almost primal production. But don't lay a bet, just yet...
Just as you have The Stinkbugs pegged and, suddenly, the sound's stripped right back for two songs, "Don't Want Me Around" and "Fly". It's like someone sucked out all the mid-range with a straw.
The Stinkbugs have revelled in being among Brisbane's most unconventional bands for their 14-year existence. This is their fourth long-player. The band is founded on a shared appreciation for psychedelia and garage rock, and the trio skirts the edges of both genres, and a few more as well.
"Double Meaning" flips the switch between that big, fat fuzz guitar sound of "Mr Excellent" and "Evolution Man" to the minimalist, modern-day equivalent of what used to be called slacker rock ("Clean House") with ease.
There's an element of spontaneity to everything The Stinkbugs do (or maybe don't do) that can put the obscurest and long redundant bands on a "Back From The Grave" compilation to shame. Other times, it falls apart.
Bassist Tigerbug's vocal jumps from plaintive drawl to scream. At times, drummer Rusty struggles to pull the band together. It's like they're a Banana CurtaIn Crazy Horse with Mantis deputising for Neil as he peels off distorted six-string chordage.
There are 13 songs to get lost in and the title track is the stand-out, a throbbing fuzz-psych ride with sharp wah-wah guitar and a snarling, unhinged vocal. "Focus and Find" follows and isn't far behind, a "Farmer John" styled plod in cow-cake covered steel caps. Tigerbug's foggy lyrical allusion to "a higher plane" sits just right.
These songs are one step short of jamming and if you've paid attention to the records that came before you won't have it any other way. It's music for a pandemic, an orbit-affecting meteor shower, an eclipse and a locust plague. On the same day, of course.
You can try playing "Evolution Man" backwards to uncover a hidden message but the guitar solos both sound like they beat you to the punch. It's a close second for favourite cut.
Brevity is a quality that's here in abundance. The day The Stinkbugs write a song that clocks in at more than four minutes long, we're all fucked.
Just 150 copies have been pressed. If you don't "get" The Stinkbugs, you'll say that's a good thing. The Fugs suffered the same slings and arrows. The rest of you will know there's a time and a place to play this LP and will press the link below.]

3/4Double
Tags: garage, brisbane, fuzz, swashbuckling hobo, the stinkbugs, double meaning