England's (bad) Dreaming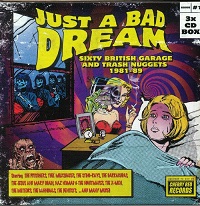 "Just A Bad Dream: Sixty British Garage & Trash Nuggets 1981-89"– Various Artists (Cherry Red)
While most of us in Australia in the '80s and '90s were obsessing with the US resurgence in trashy '60s garage rock, the Brits were having a wild old time with the same sort of stuff. This stellar three-disc, clamshell box set lifts the lid on what was going on behind the Warm Beer Curtain, in cracking fashion.
Flash back to the dawn of the 1980s: Boxed in by the constraints of punk rock - which had morphed into a fashion parade by then - and repulsed by the rise of New Romanticism, a good many Brit bands made like it was still raining German V2's and headed deep underground.
To be fair, you can also blame the Cramps for much of this, although the Poms were arguably able to tap their own deep, local wellspring. We Aussies, on the other hand, got locked into our own US '60s punk trip, thanks to our own tastemaker bands, and those buyers for local record stores who spent most of their time in the States.
Where do you start with a three-disc collection like "Just a Bad Dream"? Anywhere you like. There are precious few clunkers, a few familiar names and many fresh delights, at least to these ears. Let's kick off with the obvious suspects, then…
You can never have too much of Thee Milkshakes and their cover of "Brand New Cadillac" sounds as fresh as it did when it first aired. Thee Mighty Caesars' "Little By Little" opens disc one and is a related sure thing. The Barracudas, also, are hardly obscure – they even had an Aussie connection with Jim Dickson on bass for a time - and "Next Time Around" reps them.
Likewise, the presence of Thee Headcoats, The Prisoners and The Primevals is no shock. There's also no understating the influence The Meteors had on the psychobilly genre and "Swamp Thing". Hardcore Jesus and the Mary Chain fans will no doubt be hip to "Vegetable Man" but it does show how far the Scots moved from their roots not long after.
A good deal of "Just a Brad Dream" is lo-fi and thank Ig for that. Ug and the Cavemen's "Go Go Gorilla" isn't as good as the Psychotic Turnbuckles (I'll declare an interest there), but it has its own awkward charm, just the same. Blow Up's "125" (not The Haunted/Lime Spiders song) is another case in point.
It's no party without some frat rock and a sax-inflected "Farmer John" by The Gruffmen fills the bill. The Krewmen's "Helltrain" would give Robert Gordon and Link Wray a good run for their US dollar. You've also heard "Sunglasses After Dark" but probably not in the form Hellhag Shuffles deliver. Here is the neat thing about "Just a Bad Dream": When it's a cover, it's usually a significant make-over. You may never want to hear another version of "Stroll On"/"The Train Kept a'Rollin'" after the six versions on the Yardbirds' "Glimpses 1963-1968" box but if you do, Auntie Vegetable do enough to keep it interesting.
We'll cut Naz Nomads and the Nightmares some slack for the fake crowd sound on "Just Call Me Sky" because it suits the Seeds vibe, and what '60s band didn't try a similar ruse and usually fail? The English undoubtedly do self-deprecation better than the Americans so this one works well. Ditto Nutmeg's silly surfing showstopper "In England They're Going Mental".
Alex Palao (The Stingrays) has done a killer job as compiler and the liner notes from Mike Spenser, Lenny Helsing and Vic Templar are a revelation rather than just a recitation. Buy without fear.

Tags: garage, box set, garage punk, cherry red, just a brad dream