Glaucoma Chameleon - Eyes Ninety (Swashbuckling Hobo)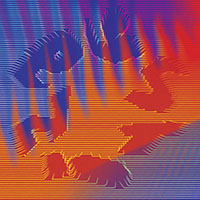 There's no chance of mistaking this for a prog rock epic or a pompous concept album. None of its songe figire on the "Bohemian Rhapsody" soundtrack. Eyes Ninety play unadorned, garage rock and roll. Two guitars, bass and drums. Tight when it has to be, looser and ragged when they feel like it. Which is quite a bit.
Music is so often a product of its geography and Eyes Ninety are from Brisbane. Now, lots of people talk about the Brisbane underground scene - and most of them are from Brisbane. If you don't come from there, you should visit more often.
For all the constraints of being an Australian capital city, Brisbane rock and roll doesn't do too badly with its music. There's a supportive local radio station (4ZZZ), functioning record labels (Swashbuckling Hobo being one) and a reasonable range of venues. What's more, the bands in Brisbane don't feel obliged to stick to any formula.
Cue, Eyes Ninety. For a so-called garage band, they sure mix it up. They get all broody and (dare say) post-punk on "Iceberg Syndrome" while "Laminated Beams" is hooky, edgy and fast. "Another Dimension" hangs off a meandering lead guitar line. "Spinning" is discordant, unnerving and equally catchy. "Lost Sunnies" packs a wallop. And that's just side one.
The band members might have been around the blocks a few times but Eyes Ninety are more often than not thrown up as an example of the "new" Brisbane sound, along with Some Jerks. But is this the current "Brisbane sound"? It's a fair bet none of the bands that come from there know or care.
"Glaucoma Chameleon" is the follow-up to 2015's self-titled debut and it's a shade less swampy with a more pointed feel. Dashes of vamping keys add some variation to the dry, gnashing guitars.
Their sound (and maybe their songcraft) peaks in "The Duke" a seven-minute-plus opus that closes side two. Its rolling rhythms and anarchic saxophone squawking labels it a cousin of Pere Ubu and The Sonics, although the guitars are more Modern Lovers than the Stooges. No surprise, then, that the ubquitious Mikey Young mixed and mastered the record. Perhaps "Glaucoma Chameleon" is a premier example of The Mikey Sound more than anything else.

It's 2019. LIve a little. Discover a band you haven't heard before. Eyes Ninety might be the one that does it for you. You can hear them via the Bandcamp link below.



Tags: brisbane, mikey young, swashbuckling hobo, eyes ninety , glaucoma chameleon