Guerillas don't monkey about with labels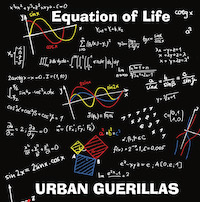 Equation of Life - Urban Guerrillas (MGM)
Ever been in a position where you didn't know what to expect when a disc landed in the CD player? That's often a good thing. My preconceptions of Sydney's Urban Guerrillas as inner-city, squat-dwelling, agitprop punk preachers are somewhat passe, and almost abandoned after a couple of spins.
The UG sound is more folk-pop than punk rock these days, and the concerns of the seven tracks on the "Equation of Life" EP are mostly universal. Not that the band was ever stuck in one sound. There's a splash of Celtic pipes in "Divine Image" (a William Blake poem set to music) and "What I Wish For" sets out a societal manifesto with a stab of mandolin in its mix.There's also enough chugging guitar and urban angst in "Claustrophobia" to light up a street-full of terrace houses in Erskineville.
These Guerrillas are a "real" band (as opposed to a "studio" one) but also an enduring manifestation of the activism and creative spirit of vocalist-guitarist Ken Stewart, a transplanted Adelaider who cut his musical teeth in Sydney's flourishing underground '80s scene and let his name to myriad causes. Unrest is never far from his songs' surface. You can take the boy out of the protest but you can't take the protest out of the boy, you might say. Stewart's credo of "Pop not guns!" sums it up.
Picket lines are one thing but It takes musical balls to tackle the Small Faces' "Afterglow (of Your Love)" and even more ability to pull it off. Although Stewart can't soar to Steve Marriott's stratospheric vocal heights - who can? - he and organist/co-arranger Neil Rawle do a stunning job on a classic. The title track is a keeper and there's food for thought in "Bandage the Heart".
Russell Pilling's Damien Gerard Studios production is top notch, and with mastering maestro Don Bartley doing the final buffing, you know it sounds great.


.
Tags: punk, adelaide, sydney, small faces, urban guerillas