How Did I Find Myself Here? – Dream Syndicate (Epitath/ANTI)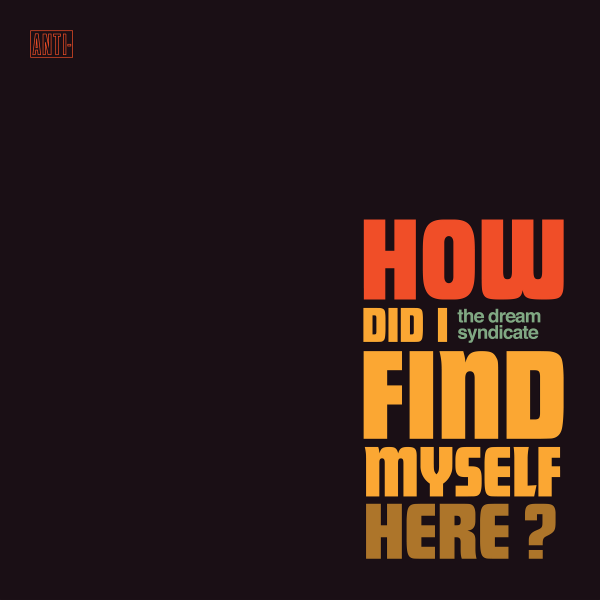 This is a review of an album by a band regarded as leaders of The Paisley Underground movement of the 1980s, written by someone who never bought into that scene.
Genres are a device to apply easily understood descriptors so other people know what you're talking about. They're hard to avoid if you want to communicate meaningfully but all the same, they're annoying because they infer boundaries. Deal with it.
"How Did I Find Myself Here?" is a rock and roll record. It gets you to a place and takes a path less obvious than most bands (reluctantly) wearing a label.
This is the first Dream Syndicate album in 29 years. Twenty-nine fucking years! The band fell apart in the '90s after going through the major label grinder and reconvened with a slightly altered line-up in 2012, playing solidly since. There's a parallel with Television, the New York City gods whose odd career path has followed a similar trajectory.
Television, these days, are basically Tom Verlaine. The band reformed in 1992 (with its definitive line-up) and recorded an eponymous, third record that was brilliant but sounded like a Tom Verlaine solo record.
Guitarist-vocalist Steve Wynn leads Dream Syndicate and whether "How Did I Find Myself Here?" sounds like a Steve Wynn solo album is for others who are better acquainted to judge. I can only say is (a.) that if you want to define "a Steve Wynn solo record" then good luck to you and (b.) that it sounds like the output of a fully realised band to me.
Genre shopping again: Forced to take a stab, the best sub-label is psychedelic. The 11-minute title track is a brilliant example. Droning, hypnotic and a little ragged around the edges, it's a killer. Dream Syndicate always did have an ear for the Velvets.
"Filter Me Through You" is lithe psych-pop with a dollop of grandeur. It's the opening track and sets up the rest of the record (now, there's a surprise). Wynn's beguiling vocal sits warmly wrapped in layers of sound on this one and the whole trip drags you along.
The soaring "Glide" follows and has a strong guitar hook and its layered soundscape nods to Can and the days of Hansa Studios. It's been pushed, with the title track, as an online taster.
"Go West" is the track that invokes Television's own "Elevation" with its ragged, climbing riff and accented harmonics. Same goes for "Circle" with its inwardly spiralling guitar line.
Wynn and Jason Victor, his longtime Miracle 3 guitarist, make a wonderful combo. If this is what they do in the studio, I'd love to see them spark off each other live. Ditto the engine room. Music like this relies on locking into a groove and Dennis Duck and Mark Walton have that down pat.
Buy into this without hesitation if intelligent, soulful rock and roll is your poison.







Tags: paisley underground, dream syndicate, how did i find myself here, epitath, steve wynn