Why? - Ich Ben Ein Esel (Pitshark/Swashbuckling Hobo)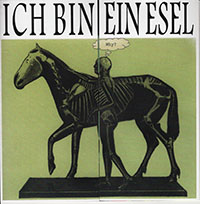 Nearly six years after it came out on vinyl, French label Pitshark has re-issued this unpolished gem from deepest, darkest Brisbane on CD in a fold-out seven-inch single pack.
Back then we opined that "Why?" was "equal parts wrecking ball guitar, sledgehammer bass and drums and can't-give-a-fuck punk slop" and there's no reason to resile from that.
We also said that "Ich Bin Ein Esel ("I Am An Ass") will sit you on your arse quicker than a six-pack of Coopers Pale Ale drunk through a straw on a stinking hot day", so if the rest of this lazy review reads like you've heard it all before, then you have...
A trio drawn from the Onyas, the Dangermen and Boondall Boys and conceived during a Sunday afternoon jam, Ich Bin Ein Esel sound like they were birthed in a tin shed on a Brisbane back-block and beaten around the head in their juvenile years with something heavy and blunt. Now fully grown and with knuckles dragging in the dirt, they exact their revenge by attacking the material (and your ears) relentlessly with a raw ferocity and swinging looseness.
Opener "Holy Grail" sears with a flaring intensity and sets the mark for most of what follows. "Killer Whale" rolls along on a monster truck bass-line and obtuse lyrics that name-check the Ig. "Man Punches Shark" is the aural equivalent of a tabloid newspaper front-page headline with ragged guitar and singalong chorus. You can't have too many songs about men punching sharks.
There's enough fuzz bass to pacify the most rabid Cosmic Psychos fan across much of this album and sometimes the roar of guitar blows the vocal away, but half the fun is listening hard to catch the words, right?
If the psyched-out space guitar of "Smeltering Blues" doesn't rattle your windows then they're double-glazed. There are echoes of the Rifles' "Thank You America" here, vis a vis the concept of spoken-word-recited-against-firestorm-background. Now as much as I love the that song and the relentless drive that Kent Steedman and Dave Morris gave it, this edges it out for sheer sonic bravado.
It's not all dirty blaring skronk; "Look In the Mirror" is a stark and reflective ballad with the whiff of "Messing' With The Kid" about it. It provides the briefest patch of relief. But admit it, it's the grotty stuff you're really here for and the guitars of Dr Rock and Mad Macka (who doubles on bass) won't let you down.
Available at a bargain price both in Australia and Europe (just 10 bucks in Oz) so don;t snooze and blamde the high cost of international postage for your abject failure.




2/3
Buy it in Australia while it lasts
Tags: brisbane, pitshark, dangermen, mad macka, onyas, swashbuckling hobo, dr rock, ich bin ein esel, boondall boys