Libertatia - The Deadvikings (Savage Magic Records)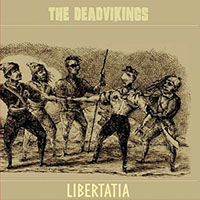 Like the financial affairs of a retired politician, it's amazing what you find in rock and roll if you dig deep enough. Japan's The Deadvikings are a prime example.
These Far Eastern brothers-by-another-mother of the Hellacopters have been going for 10 years and have numerous releases behind them. They've done a split single with UK reprobates The Sick Livers and The Hip Priests (but don't judge them by the company they keep.)
They've toured Europe and China. They're hitting Australia in November, with their Sydney mates Bunt.
Hailing from Kobe - a city notable for its beef as for being the site of Japan's first golf course - they sound like they landed in the rock clubs of Sweden in the early 1990s and never left. In short, they rock in a tuneful way.
"Born To Lose" is a hackneyed title for a song but in this case, the ends definitely justifies the means. It's an anthemic hybrid of the 'Copters, Rose Tattoo, Backyard Babies and AC/DC,
"Midnight Express" could have been a long-lost Sonic's Rendezvous Band tune with its flamethrower guitars and ragged riffing, and it serves as a reminder of from where the Hellacopters and 5000 other bands copped their mojo.
"She's Gonna Fall In Love With You" is a surprisingly listenable soft metal cross between Van Halen and BOC, with Angus Young playing along. This is a band happy not to sit in one pigeonhole - they run the gamut from proto-metal to pop-punk. A few songs sit comfortably in that last space.
There's a lot going on in the lyrics on "Libertatia" but I'm stuffed if I can read them on the CD pack (that font is illegible in yellow on brown) but how many bands do you know that write a song about Ned Ludd, the original Luddite? If that one's too reflective for you, riff-laden closer "Necrophilia" will shake you out of your sake stupor.




Australian Tour dates (with Bunt):
The Old Boatshed, Manly - Nov 9
Bondi Royal - Nov 10
The Townie, Newtown - Nov 11
Frankie's Pizza - Nov 12
Tags: tour, japanese, hellacopters, australian, deadvikings, savage magic records, libertatia