Mammas Don't Let Your Punks Grow Up to Be Cowboys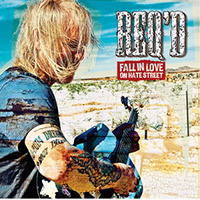 Fall In Love On Hate Street ‎- REQ'D (Doomtaker)
Pulling Up Floorboards – REQ'D (Doomtaker)
It's often said, and not in jest, that inside every punk is an alt.country dude just waiting to bust out just as soon as he or she wears out some body parts. Sluggo from acrobatic San Francisco punks The Grannies is no different.
After 20 years of touring and now a father who, not unreasonably, wanted to be ambulatory in his autumn years, Sluggo formed REQ'D (pronounced: "wrecked") with a group of Oakland, CA, friends. The idea was to record a song, "Song For Blixa", written for Sluggo's then-ill son. The good news is that Blixa is in remission and REQ'D kept the record button on.
REQ'D have hit the ground running with two albums in short succession, releasing "Fall in Love on Hate Street" (if you've been to San Francisco, you'll get the joke) in 2019 and "Pulling Up Floorboards" in '20.
A word about genres: Like most tags, "country" is D-U-M-B. but a neccesary evil, in that it at least establishes a mutually-understood approximation of what music will sound like. Of courdse there's classic country music which thrives on tedious stereotypes and cliches, and there's unburnished and raw country music. No guessing which path REQ'D follows. It's not always pretty to the ear but that's what most I-94 Barflies will want to hear.
Yes, REQ'D sound gnarly and a little bent out of shape.This is a band that doesn't fit into any neat generic hole. REQ'D is more often than not likely to veer into off-kilter territory and therein lies the attraction.
Not meaning to name-drop, but Jack Endino produced both records and session guy Tony Sales (son of Tony snr and nephew of Hunt, "Lust For Life" Iggy sidemen) is one of the drummers.
The "Fall in Love On Hate Street" cover art makes a statement all on its own with Sluggo's unkempt hair and tatts the dominant motif. Song titles are reduced to single words. The players are numerous, with brass, keys, percussion and vocal augmentation and a nice loose-but-together sound.
"Blood" is an emphatic opener with its swirl of guitars and poignant lyrics about falling friends and reduced circumstances. The rollicking vocal duet of "Haunt" bobs up from outta left-field, just in case you thought you had the band sussed early.
"Fall in Love…" features a handful of choice covers. "Don't Let The Sunshine Fool Ya" (abbreviated to "Fool") is a dark Guy Clark tune about scoring hard drugs and rocks regally, thanks to rollicking barroom piano and ragged guitar. It's a stunner. You'll also know "Heart" by its full title, "It's a Heartache", and REQ'D's version is a bitter-sweet duet between Sluggo and (presumably) Mia Katherine Boyle, laced with violin and more of those dirty six-strings that shits all over Bonnie Tyler's hit.
Thed version of The Caveman's "The Ship Song" is a mixed bag, stripping back the pomp and majesty of the Bad Seeds' original and coming across as restrained, but nowhere as cheesy as the Denis Walter cover that ended up on Australian midday TV.
The song "Cancer" will beat you up like its namesake, lyrically speaking, while the music takes a detour into jazz. The swampy "Car" stomps all over its own bedrock of organ and alternately funky and acrid guitar. "Girl" throws up some scatter-gun horns while "Dream" ends the record on the quietest of notes and swipes Thurston Moore's guitar tone.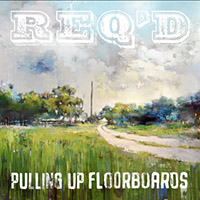 "Pulling Up Floorboards" cuts a similarly diverse swathe through preconceptions of what alt.country is supposed to mean. Sluggo ain't no choirboy and steps back to let bandmates take the vocal lead on a good few of the 12 tracks, which initially gives the record a lack of focus. With a few listens, however, the variety becomes a strength and it's clearly a "band album".
Side one is home to "Revolution Kids", a sharp guitar rocker that puts the cowboy boot into gun law inaction with drummer Richard Stuverud on vocals. Hilary Reed plays the sultry outsider on "Stained Glass" where Anthony Pulsiphger's lead guitar adds edge.
"Ride 2 U" is more Chicago blues (in the vein of the "Monkey Puzzle" Saints) than country with Thomas Quinn's riffing trumpet and sax duelling with Lauren Rhodes' brassy vocal. Instrumentalist jack-of-all-trades Dave Flores brings the right degree of vocal world weariness to "Always Easy".
The REQ'D cover of Tom Waits' "Union Square" twists the original into a barroom raver and is a barrel of fun while "27 Devils" has the same loose playfulness.
Perfect Saturday afternoon drinking fodder.
Both records come as vinyl here with a download code and there's also the ubiquitous digital option.

- Fall In Love On Hate Street

1/2 - Pulling Up Floorboards
Tags: REQ'D, sluggo, the grannies, Fall In Love On Hate Street , oakland, doomtaker, pulling up floorboards