ManArays emerge from the shadows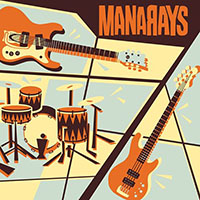 ManArays - ManArays (Swashbuckling Hobo)
Considering they've been around since the start of last decade, Brisbane's Manarays have a minuscule online footprint. Consider this a Public Service Announcement to alert you to their presence, as well as an album review.
The ManArays - vocalist Chris Fletcher, guitarist Adrian Carroll (aka Killer Guitar Carroll) and drummer Micky Scott - come from turn-of-the'80s Sydneysiders The Splatterheads, so it's no surprise to hear them tackle these 13 songs with a similar attack.
There are touches of the Gee-troit bands like Powder Monkeys and Bored!, a dollop of The Freeloaders, and even the Ramones and Mott the Hoople sprinkled throughout. Californian-born Fletcher's gravel-flecked pipes and Carroll's gritty fretwork are stand-outs.
Back in the day, The Splatterheads seemed to be obsessive Misfits fans whose point I never grasped, but "ManArays" is far from a straight-up punk record wearing make-up. There's a spread of influences here - and some sizzling rock and roll guitar work.
The urgent guitar riffing of "She Flew" will shake you awake. The stuttering, building instrumental "Show Opener" would have been prime fodder for a single. "Don't Be Late" is an emphatic album starter and "Dream Baby" - no, not that one - is more abrasive that a pot scourer.
Ex-Splatterhead Sly Faulkner contributes a guest vocal to the soaring and snarling "Comin' Home", which is a highlight of the LP's second side, which boasts the slower songs. "She Dance" leans to country. "Split In Twain" picks up the pace, riding a big rocking groove.
It's stating the obvious to say that Splatterheads fans need a copy but the appeal shouldn't stop there. Like all Swashbuckling Hobo releases, it's on vinyl. Bandcamp is your destination for procurement purposes and it's out on May 11.

1/2
Tags: brisbane, swashbuckling hobo, manarays, splatterheads