Mar Y Sol U.S Radio Broadcast - Alice Cooper (Applebush/Easy Action)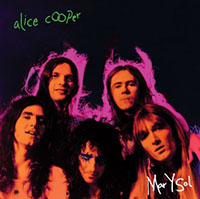 This one's an undiluted broadcast of a red-hot show by the Coop and the boys at the Mar Y Sol Pop Festival in Puerto Rico in 1972. That's to say, the original Alice Cooper Band, and not the crack session players and paid employees who followed.
Crank it. What you're hearing is the Alice Cooper Band at the peak of their powers. They're band in all senses of the word and a gnat's dick away from world domination with the release of their "School's Out" album.
The back story is the band was on a festival bill in Puerto Rico with the likes of Al Kooper, the Allman Bros, Emerson. Lake and Palmer, the Faces and David Peel and went on at 5am. You can't tell from the energy levels. A review at the time describes a festival beset by chaos, numbing humidity and massive financial losses. They would say that, wouldn't they. Let's hope the bands got paid.
"Mar Y Sol" is six songs from "Killer", with three from "Love It To Death". It's devoid of audience noise, thus light on for atmosphere, but the playing is, er, killer.
Alice's vocals are too loud, so it's probably a feed through the desk, and Neal Smith's drums sound boxy, but you take what you can get with live records and these elements are by no stretch a game-breaker. Far from it. The sound is punchy for a resurrected FM radio tape.
Glen Buxton is ablaze on lead guitar. Michael Bruce is a formidable foil on keys and second guitar and you could crack nuts on Dennis Dunaway's bass, his playing is so hard. Wrap your ears around the 10-minute plus version of "Halo of Flies" for definitive evidence, or slip into "Dead Babies".
Alice himself is in fine fettle except for the occasional flat note; on "Is It My Body" and "Dead Babies" he sounds sassier than a Detroiter with a bellyful of Boy Howdy. Smith's dynamism was a secret weapon and he drives the engine room with manic fury, especially on "Body" and the surging "Long Way To Go".
Only one of these tracks has been officially released before. The album is a song short of a full set (the band reportedly ended with an instrumental version of "School's Out".)
The good news is that "Mar Y Sol" comes on CD and LP. The bad news is that quantities are limited and it may not ship to all countries, due to licensing restrictions.




1/2
Tags: alive, love it to death, school's out, glen buxton, killer, alice cooper, Mar Y Sol, dennis dunaway, neal smith, michael bruce