New Feeling - The Favourites (Reckless Records)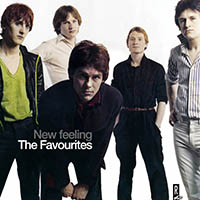 Sounding every bit like a band born out of time, The Favourites have released their debut album - 40 years after they expired.
Throw your mind back to 1977-79 (pretend, if you weren't born) and think about the music de jour in the UK. Punk? Ska? New Wave? It sure wasn't Power Pop. What was around used the descriptor New Wave and was at the mercy of the notoriously fickle UK music media. So-called provincial bands (not based in London) had their work cut out.
The Favourites grew out of two Nottingham bands, the DTs and Plummet Airlines, the latter signed to Stiff Records. Their two-and-a-bit-year existence was peppered by recording sessions and live work, and they shared stages with Squeeze, The Rich Kids and The Only Ones.
The Favourites crashed and burned where the five members couldn't agree to relocate to London to be closer to the action, leaving behind a couple of singles and enough songs for an LP. Ex-Favourites went on to play in The Pogues and The Deadbeats. "New Feeling" compiles their A and B sides and 10 other tracks.
Rock and roll is full of What Ifs so what about a hypothetical where the The Favourites were swept up in the Bomp-inspired pop and '60s revival boom of the early '80s? The Barracudas arrived about the same time and surfed to some success. The Flamin' Groovies were knocking at the door then, too, but couldn't make up their minds what they were.
"New Feeling" is chockablock full of sharp guitar pop. The single, "Angelica", is probably the best known of their output and it is a pearler, but tracks like "Favourite Shoes", the hooky "Only Want To Love You" and the urgent "On My Mind" are not far behind.
Daryl Hunt's engaging vocals and the pointed guitar work ("Cold" especially) are winners here. Hunt comes on like a cross between Pete Shelley and Paul Collins. Fans of Australia's similarly lost Lonelyhearts will dig this band's sound.
The spiky cover of ABBA's "SOS" (the other 45) comes on like a speed rush and makes for a brilliant opener. The stilted "Perfect Partners" straddles a line between new wave and post punk and is interesting enough. There's a sense of a band with its ears locked into the sounds of punk but forging its own poppier path.
"Angelica" aside, the second side isn't as ace as the first and the drop in recording quality is marked, but the latter day tracks were probably intended to be demos. The playful "Alone In The Darkness" would have made a great Kinks B side. The potential's evident in songs like "Private Eyes" and "Talk About It"; it just needed some polishing.
"New Feeling" is a vinyl LP (with CD) or download and is every bit the lost pop gem.




Tags: powerpop, favourites, new feeling, reckless records, england