One ride worth taking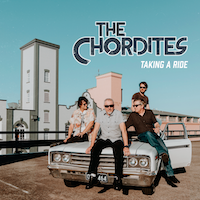 Taking a Ride - The Chordites (Swashbuckling Hobo)
This ride's got a lot of everything. Pop-punk, power pop and grimy garage rock spring from the 10-song vinyl LP like water from a leaky radiator.
It's a self-assured effort from a crew of Brisbane players who - to milk the travelling metaphor - have a bit of mileage on their clocks, doing duty in bands such as the Dolls-meet-the-Groovies Subsonic Barflies, Half a Cow popsters Daisygrinder and '80s punks Death of a Nun.
That's a diverse background, so It may have been tempting to make a record with a side of pop and another of the rougher stuff. I have a feeling that such a contrived approach would have been too predictable for The Chordites.
The one thing "Taking a Ride" lacks is histrionics. When the guitar solos come, they're fractured or abstract rather than protracted. That in itself might be an attraction..
"Taking a Ride" was recorded over in a suburban garage over 12 months and sounds like a fun time was had by all. The production is sharp and the master was mastered by The Master himself, Don Bartley. It was probably money well spent.
"Prime Evil" (that lyric is a pun in itself) and opening track "Liar" tend to the gnarly side. There's a rocking cover of "Tainted Love" that's delivered with sonic twists but also a degree of respect for the song. Taking the piss would have been the obvious path.
The poppier side of The Chordites is well represented by "Never Again", a wonderful kiss-off tune with a bright and breezy air and "Stars Align", a chunk of mature pop with a warm glow. "Sociopath" plods until the guitars ignite halfway through and the band's affection for a melody kicks in. "Unfunny Joke is shoegaze pop that would have kicked around US college radio in a past life.
"Touched By The Hand" is a nod to grunge that's announced by the cracking of a tinnie. Speaking of beer, "Better Things" recalls the hops-happy Replacements with its skewed vocal, droll lyric and Bob Stinson-inspired solo. No shock, then, to discover the band cites the 'Mats as a prime influence.
So you think a band is not a democracy? Vocals are shared between Bryce Lawrence and Drew Beaman, They and Mark Birskys split the guitars and bass roles amongst themselves. Paul Prendergast doesn't yield his drum stool to any of them, so it's a guess that he's territorial or the others keep lousy time.
"Taking a Ride" is available on vinyl or as a download. The band will launch it on March 20 at The Flaming Galah in Brisbane with The Dangermen, Gravel Samwidge and Eyes Ninety.



3/4
Tags: garage, brisbane, pop, grunge, swashbuckling hobo, don bartley, the chordites , taking a ride