Posthumous Angus Khan album makes a mark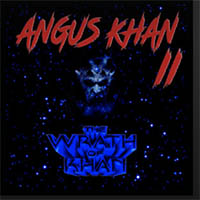 Angus Khan II: Wrath of Khan – Angus Khan (self released)
Angus Khan is one helluva biker heavy metal band and "Angus Khan II: Wrath of Khan" is one helluva album, a wonderful 2020 follow up to the most underrated and fabulous "Black Leather Soul".The Los Angeles-based band's music has been described as: "Where Angus Young meets Genghis Khan in a back alley fight" and that'll do me. Both these albums need to be played loud.
Angus Khan was a collaboration band between punk and rock 'n' roll acts The Streetwalkin' Cheetahs and B-Movie Rats that spawned "Black Leather Soul" in 2009 and broke up in 2012. "Angus Khan II: The Wrath of Khan" sat on a hard drive for years before being released in digital format.
Mainman Frank Myer (Streetwalkin' Cheetahs, James Williamson and Eddie Spaghetti & Frank Meyer) dropped by the I-94 Bar to give us a track-by-track on the sophomore album. Here's the download.
FRANK MEYER: Our first album "Black Leather Soul" was released, Angus Khan played a tons of live shows. It got reviewed in Rolling Stone magazine, so we got lots of great press after that and the offers were coming in. We already had a few songs written like "Shit City" and "Machine Gun Funk", which Dirty D and I wrote high on cocaine the first night we talked about doing "Angus Khan II". The rest were written over the next few years.
In the meantime, we changed drummers, so the band got way tighter by the time we hit the studio to track all the new tunes. Dirty D came in with "Palm of My Hand" and "I Rule The Night" at the last minute, which we loved. But as we were recording, the band started to splinter. There were already some issues, but things started going sour fast.
Dirty D quit and we knew we couldn't replace him. He was one of a kind. A real deal rock star with an incredible voice. So we broke up and Dino Everett and I started doing the Streetwalkin' Cheetahs again instead, roping in Bruce Duff from Angus Khan into the new lineup. But nearly a decade after we first recorded it, Dirty D and I started hanging again and decided we should release this stuff ourselves on Bandcamp and CDBaby. We also have a new song on the way!
American Fly – We wrote this one to be a metal take on Don McLean's 'American Pie,' and would serve as the 'Hello folks!' song on this album. It also carries on our tradition from the first album of having a song that completely changes halfway through into a different song (on Black Leather Soul 'On The Run' does that too).


Screamin' Blood Murder – Bruce came up with this insane riff and the song came together in a rehearsal. Definitely some David Lee Roth screams in there from Dirty D and the music was influenced by the Four Horsemen, Van Halen, and AC/DC.


Palm Of My Hand – Dirty D brought this one in at the last minute and I thought it was amazing. Reminds me of Guns 'n' Roses best stuff, with a little Aerosmith thrown in. The lyrics could be about guns or sex, so it felt right up our dirty little alley.


Shit City – "Dirty D and I got all jacked up on cocaine to write some metal songs for a few nights and this was one that came out from those sessions. I don't know why it didn't end up on the first album, but we had been playing it live all along. It's our ode to L.A. and showbiz people.


Graveyard Dance – I thought we needed a mid-tempo Alice Cooper-meets-Van Morrison style ditty with a swing, so we came up with this. We added some horns for that Vaudeville swagger and lots of skulls, bones and lil' dolls in the lyrics.


Sacrifice – This is another one we had been playing live for years. This Bruce Duff-penned Satanic song was specifically written for our singer Dirty D – who otherwise had not been playing guitar in the live set – to pop out between Bruce and I with a Gibson Flying V and suddenly take our Iron Maiden-style two-part harmony leads and turn it into a three-part harmony! Then we'd do a three-way guitar solo battle over the groove. The audience always freaked cuz they had no idea the other amp and guitar was even on stage and ready! It was waaaaay over-the-top.


Machine Gun Funk – This was the other song Dirty D and I came up with in those first drug-addled nights. We'd listen to vinyl copies of albums by Judas Priest, Leather Angel, Bitch and Armored Saint and talk about doing a metal band. My blues-rock trio at the time featured Bruce Duff, and I just told Bruce one day that we were adding Derek on lead vocals, he was switching from guitar to bass, Dino from the Cheetahs was joining on bass, and we were switching drummers. He was aghast! 'And well play the same songs?' he asked? 'Nope,' I said. 'I've got all new songs and they are way heavier!' And that's how Angus Khan was born.


Fight – We wanted to have a Rolling Stones-style rocker on this one because there were a few of those on the first album and we all love the Stones…and violence. Drummer Brandon Johnson just crushed this groove! Charlie Watts meets Dennis Thompson!


I Rule The Night – This was the other rocker D brought in at the last minute. It was another Sunset Strip sounding hard rocker – in a good way – with a killer riff and hilarious lyrics. I loved it.


Demon Semen – We write this for a 2011 indie horror movie called "Chillerama" that my friend Joe Lynch directed. He said he wanted a punk song for the soundtrack and when he told me the plot he ended with, 'and then they get infected by the zombie's demon semen!' I said, 'You just named the song!'


Satan's Slaves – Another very, very evil song from the mind of Bruce Duff about Satan and his sex minions. I can only image what goes on in the dungeon where he dwells.
RON: So Barflies there you go. I have been lucky to have this now released album in my collection for a couple of years now and I, for one, fucking love it! Take care.
From the Farmhouse XX


Tags: frank meyer, streetwalkin' cheetahs, angus khan, black leather soul, b-movie rats, bruce duff