Prospecting yields Gold for Ashley Davies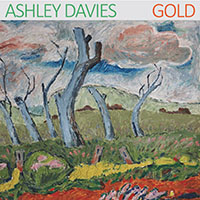 Gold - Ashley Davies (Strange Loop Recordings)
Before we start ... it's always about the songs. And "Gold" is magnificent.
But wait, there's more...like the pattern of a walnut...
Every now and then something quite special arrives at my Internet cabin in the woods. As you may or may not know, I've edited a couple of Australian Bomber Command books - first-hand accounts by two then-young men who answered the call and flew the missions.
Those books have brought me into contact with other people, and some of their stories (such as the the wish-he'd-been-a LRP Ranger) ... and they also raised the eyebrows of a chap called Ashley Davies.
Now, as you know, very few labours of love come off well. Either they've been worked on so hard, over too long, that something gets lost somewhere, or they were ill-conceived or ill-realised.
Not "Gold", however. "Gold" is bloody marvellous. Also, there's several degrees of complexity here, to what is in essence a very simple thing, yet steeped in Australian mythological constructs which positively reek of human frailty and ambition. In short, while many better-known artists portrayed Australia's identity crisis, Len Davies seems to have been completely content with his Australianism.
So, yes, there are several layers to "Gold".
On the surface, "Gold" is a musical depiction of the life of Harold Lasseter, the enigmatic figure behind the legendary 'Lasseter's Reef'. The songs are based on the vivid and emotive paintings by Len Davies.
Context: Sidney Nolan, Arthur Boyd, Pro Hart all had a deep fascination with an Australia which struck them as far more complex and conflicted than we were willing to admit back then; take a look at landscapes such as Nolan's mining scenes, or Boyd's investigation of the inner workings of men in a landscape fit for Spartans (ever see "Shearers Playing For A Bride"?). Nolan, ha, never mind that Ned Kelly was a hot-headed thief and a total drongo, Nolan's renditions create a particular worldview, and allow us a peep via a dark side-mirror into Australia's confused and cruel heart. If Kelly could see how his bloody-minded stupidity and 'victimhood' was used as a series of high-falutin' allegories ... well, after getting over his initial shock, the man would surely be milking punters and misguided nationalists/ republicans/ Hillsong dingbats for decades. 'Such is life', baby.
Don't get me started on misguided (if well-meaning) mythology. When the Diggers returned from the Great War, they were utterly bewildered by the fuss still being made over the sacrifice of (John) Simpson (Kirkpatrick) and his donkey.
Really? Yep, the Digger's hero was Albert Jacka, VC (whose citation reads, in part, "Lance-Corporal Jacka, while holding a portion of our trench with four other men, was heavily attacked. When all except himself were killed or wounded, the trench was rushed and occupied by seven Turks. Lance-Corporal Jacka at once most gallantly attacked them single-handed, and killed the whole party, five by rifle fire and two with the bayonet").
From memory, after Simpson's father died, at age 16 he left his mum and 7 other kids and joined the Territorial Army; in 1909 joined the British Merchant Navy. He deserted at Newcastle in 1910 and took what jobs he could get, enlisting in the Australian Army (using a variant of his real name) in 1914. Instead of a free passage back to Blighty, he found himself at Gallipoli as part of the 3rd Field Ambulance.
All I'll say about Simpson from here on in is that everyone who went up Shrapnel Gully with the Turks sharpshooting everyone they could see was bloody brave; although I must say a donkey makes a damn fine target. He went through at least 5, bringing down (obviously) lightly-wounded soldiers from Shrapnel Gully. He was finally (inevitably) shot by the Turks - on the same day Jacka won his VC (he should've won at least one more in France, by the by).
Nolan and Boyd both painted interpretations of the rich Simpson myth, with its dense seam connecting ANZAC to the Anzac Spirit at home to the Resurrection myth of Christ. They weren't interested in Jacka - that was for 'realist' painters - but the deeply misguided Australian self-damaging mythology.
You should be seeing a pattern by now. If not, take Peter Stanley's book "Bad Characters" (2010). In his review, David Tattersfield quotes Stanley: "As Peter Stanley says "...Australians idolise the AIF....This admiration, though sincere, has tended to emphasise the positive, leading to a distorted, superficial understanding. It is time to see the AIF acknowledged in the round, appreciating that its unique character owed much to the mix of 'bad characters' and good soldiers."
We can well imagine Nolan and Boyd agreeing ... but through their own post-modern lens ... But back to Lasseter.
Fred Blakeley (in "Dream Millions", 1972) put up a fairly strong argument that Lasseter was a bit of a con-merchant who set up a situation to rope in investors, then bugger off. It's credible, particularly when you consider that Lasseter was one of many Aussie 'larrikins' who signed on for the Great War, only to be discharged after repeatedly going AWOL, then re-enlisting, but again discharged after a brawl - he never got as far as a troopship. Take a look.
Ash Davies explains;
'Gold' is based on a series of paintings by my uncle, Len Davies, who was a rear gunner in an Avro Lancaster bomber in 467 and 463 Squadrons during World War 2. He was an amazing man and a great uncle.
When Len Davies died, Ashley's mother inherited his paintings. All of them. Hundreds of paintings. Art was Len's sustenance, his creative imperative, and he was fortunate to find a series of jobs after the war which paid him to do what he loved. In "Gold", Ash pays homage to his uncle's achievements, his obvious love of life, of Australia, ensuring that his work finds a new audience.
"The Lasseter Series" are first, quite special, as they're not necessarily in Davies' usual style. Second, they are ... reflective, and joyous. Not glum and gloomy. Not ripping at the scab of Australia's identity crisis. I find myself wondering if Len found similarities with his own identity in Harold Lasseter.
Given that the paintings were completed before the publication of "Dream Millions", perhaps so.
From Claire Hunter's article on Len Davies at the Australian War Memorial;
There was only one time, at Christmas, when I was a little bit older … I must have asked him what was it like. I can still see it clearly. He was sitting in a chair and he didn't say anything. He just put his head down, and put head in his hands, and said, 'You can't imagine.' He was very quiet … and I just knew not to go any further … he didn't want to go there … he didn't want to talk about it … and I could kind of understand why.
But wait, there's more ...
If Ash's name isn't immediately familiar that's because Ash is a drummer - and not all drummers get noticed. And, if you dig (I'm not doing it for you) you'll realise you've seen him live, or heard his work. With, say, Matt Walker. The Models, Jeff Lang, The Dingoes, Lisa Miller, Rob Snarski, Chris Wilson and The Crown of Thorns.
From Ash's website and Bandcamp page:
Writing mainly on guitar, piano and drums, he also uses harmonica, electronica, voice and anything else he may find in his music room or beyond that will capture the sound, emotion and feel he is looking for. He's a highly sought after session musician having played on over 60 albums, recorded for film and television soundtracks, and performed with various artists in Australia and internationally. He has recorded and produced 6 solo albums of mostly instrumental music and conceived 3 live theatre shows incorporating his own compositions which have performed at various festivals around the country.
Rather exhausting, reading some folks' bios, isn't it? I mean is this guy driven or what?
But wait, there's more before we get to the music...
See, Len's character couldn't be further from Lasseter's, Simpson's, or any of the "Bad Characters". Yet, something about the magic myth of Lasseter - the man - captivated Len. Perhaps it's partly to do with Len having been through a war and survived, that he felt compelled to celebrate life in all its quirks and mysteries, (while army veteran Arthur Boyd felt compelled to show us a darker struggle). Let's look deeper.
This is from Claire Hunter's article on Len Davies at the Australia War Memorial;
As a boy before the war, Len had sold newspapers at his pitch near His Majesty's Hotel. He dreamed of becoming a cartoonist one day, and would while away slack periods by drawing cartoons on the white-washed walls of the hotel. The publican didn't mind. He argued it was good for business because so many people stopped to look and stayed for a drink.
When a newspaper man asked the youngster – "a fair-headed, cheerful well-knit kid … one of the city's most popular newsboys" – if he had ever learnt drawing, the 13-year-old Len shook his head.
No. But I wish I could," he said. "I like drawing ... Sketching just comes natural.
He was working behind a counter at Baird's Department Store in Perth when he put his age up to enlist during the Second World War. His father and brother were both serving in the AIF when he joined the Royal Australian Air Force and trained as a rear gunner.
He continued cartooning in the air force, designing the nose art on his crew's Lancaster, and sketching images "all over the walls of the Sergeants' Mess".
Ordered to bale from his burning Lancaster during a night raid over Karlsruhe, Germany. He was captured in the Black Forest and taken prisoner by the Germans.
The war in Europe was all but over in April 1945, when the prisoners at Nuremberg ... began their forced march to Moosburg. The march, cover[ed] some 160 kilometres[;] with little or no food, Len survived on what he could.'
After working as a newspaper cartoonist in Perth, then Sydney, then a fashion artist in Toronto, and other adventures, he returned to Australia, where he painted (watercolours and oils) until his death in 1995.
Yet Len Davies never exhibited his work.
"Gold" features Len's art on the front cover, and there's a large glorious colour booklet of Len's art inside; "The Lasseter Series". I'd argue that the booklet alone merits the purchase of the LP; Len's art is magnificent. Why he's not being reassessed as another great Australian artist who slid between the cracks is beyond me.
There are, to my eye, more than a few similarities between (say) Nolan, Boyd and Davies. But while Nolan and Boyd occasionally turned a murk-revealing lens on the Australian way of life, Len Davies ... on this showing, Davies is fascinated by Lasseter the real man in the too-real Australia of days gone by, his improbable dream, his love of life (and, possibly, the easy score). Hell, Australia is a pretty harsh damn place now, and back then it would have been a lot more unpleasant. Unsurprising that so many would knock aside the law so as to improve their miserable lot.
So what to make of the music? What's the starting point? Benny Goodman?
No. Davies finds his base here with the Bacharch/ Kaempfert instrumenal albums of the 1960's. And ... Australian folk. I think. I mean, this is lush, man. Sweeping. Delicate. Glorious.
Now, if you'd not been deluged with all the above ... you'd be dancing round the parquet floor from the moment the needle hits the first groove. The first piece, "Birth" is a rich, glorious welcome, the second, "Bush" is this elegant, finger-popping guitar-lead piece ...
Wait. "Birth" is a veritable big-band, with backing vox, sax, violin, viola, cello, trumpet, piano... it's huge. I don't recognise many names (Jack Howard) but I'm not the best at recognising names.
While "Bush" is equally big ... but is piano ... and Ash on drums, percussion, electric and slide guitar...
Without going further, we recognise what an uplifting creation this is. It's full of love of life, compassion and the fever of ... well. The recording is huge, clean and sparkly. By the third track, "Outback", all wonky lurches, glistening tears, and the sound of forward footsteps... we realise ... well, this is beginning to resemble a symphony. I mean, the term 'concept LP' deserves to be ridiculed for its pomposity, but what we have here is a complete, harmonious package.
In the Acknowledgements Ash mentions something which few artists do - vocalists and musicians for working out their own solo pieces and vocal lines. This has been a labour of great love and Ash knows it.
"Discovery", the fourth song, is one of those glorious pieces you'd swear you'd heard before. By now my driving is a little erratic. There are no lyrics as such, by the way. The pieces are so involving, simple and rich, that lyrics aren't required. You get the idea very well. Touches of Hunnas or Oils? Maybe.
The middle song, "Gold", is where it all comes together, Paul Williamson's sax snaking around you like a cat when you've just come home. The sexy, liquid drama pouring out of Jack Howard's trumpet, the magnificent guitar enigma variations ...
And... about here is where I'll leave you to figure it out for yourself. "Gold" is a wonderful, carefree, blissful cool breeze of an LP, it makes great driving music, cooking music, and anytime, really.
"Gold" has the pulse of the nation here, whether you're stuck in Iron Knob or Port Hedland, in a gilded cage in Byron Pay, or juggling ruggies in a two-bedroom flat above a chicken shop. We all have the same dream - to find our gold in this country of ours.
In conjunction with Len's art, I find myself wondering - despite his successes, did he feel he'd found it ... or was he still hoping to find it again...?
Here's the link to get it. 150 copies. Get your skates on here.
If Ash gets this to you in any form whatsoever, don't hesitate. And, remember ... just that booklet alone is worth the price of admission. If you want to know a bit more - which is, I suspect more than Len knew - about Lasseter, go here.




Tags: matt walker, ash davies, Gold - Ashley Davies , Strange Loops Recordings, len davies, models