Punk's spirit shines through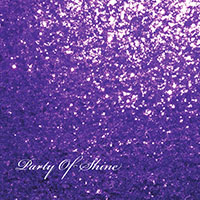 Party of Shine - Party of Shine (Swashbuckling Hobo)
If this passed you by when it landed on Brisbane label Swashbuckling Hobo in January, you're not alone. It's the debut album for former Jason and the Scorchers bassist Jeff Johnson and his band, and follows a single for the same label.
Ignore the shiny cover art. Party of Shine plays dense, mid-tempo punk rock. Their sound is thicker than treacle with abrasive guitars a rumbling bottom end. Johnson plays guitar. The other guitarist David Harvard's gruff growl imparts an undertone of sullen menace. There aren't any uplifting gospel songs here.
The album was birthed over the Internet with Johnson working out of Brazil where he had a job as a motorcycle mechanic. He's since returned to the USA and the live line-up, based in Nashville, is Johnson, Harvard, Mark Pilkinton (drums) and Steven Geiger (bass) who were schooled in the LA or Nashville underground scenes. Thy have a nice sense of loose but limber about them.
Back in the '80s, Jason and the Scorchers blended alt.country and punk. You might term them seminal. I didn't take much notice. They're still a going concern with a vastly different line-up. If you expect Party of Shine to plot a similar path and play what's now termed Americana, think again. This music leaves scorch marks of its own. It's punk without the fashion accessories.
"Believed In You" pushes along like a wall of molten lava before shuddering to a halt. That's how Party of Shine rolls on a few of these tunes. "What You Wanted" pares back the heaviness a little with a touch of acoustic, but the razor sharp electric guitar pokes through. A song in the spirit of "Raw Power".
The gritty "Dust in the Rearview" ploughs along intently with the guitars meshing so tightly you can feel the strings bending. The doom-laden "Deadman" sounds like a cross between Dead Moon and The Wipers. Then there's the Crazy Horse flow of "With a Girl". Both of the latter clock it at under two minutes. Fans of the Lazy Cowgirls will find a lot to love here.



Tags: swashbuckling hobo, jason and the scorchers, jeff johnson, party of shine, nashiville