Pure gold is calling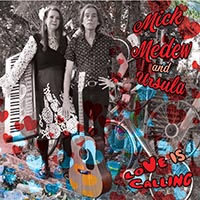 Love is Calling - Mick Medew and Ursula (I-94 Bar Records)
Two years of lockdown were not wasted by Mick Medew and Ursula Collie-Medew. Besides getting married, they also managed to entertain every second Sunday with their live lockdown streaming gigs.
The streaming shows were wonderfully received, with Mick playing some classic songs from his back catalogue with the Screaming Tribesmen and others, plus new tunes, and Ursula sitting in on keyboards on a few. When words reached The Farmhouse that Mick and Ursula were releasing a new CD of songs written over lockdown, I for one was excited to hear how these tunes would sound with full production.
And it's pure gold, folks.
"Love Is Calling" was recorded and produced by the talented Brian Mann (Ed Kuepper, Screaming Tribesmen, Mick Medew and the Mesmerisers) who also provides bass guitar, wah wah, keys and backing vocals. Also helping out was Lois Andrews (bass) and Greg Young (gutiar on "I'm At Home".)
So let's break down the tracks.
"White Star" is a moody instrumental. Following that, the title track has some fantastioc vocals and guitarwork.
"Goth Night at The Synth Ball" is, in my humble opinion, one of the very best Mick Medew tune.
"December Sky" and "Evidently Boundary Street" are predominantly acoustic tunes featuring some wonderful playing by all concerned.
"36 Degrees" just drips sweat and you can feel the warmth radiasting all the way from sunny South-East Queensland.
"Dream Come True" is a funky blast and I would love to see this played live as there's some serious shredding of the guitar going on here.
"I'm At Home" is some boot stomping, fingers-in-the-belt-buckle, knee-slapping country goodness. Yeah-hah!
"Past The Borderline" is a soulful tune that's just lovely. "77 Times" is where
"77 Times" is where Ursula shines on keys; you could swear there's an orchestra at work, and it's a great piece of songwriting happening on this tune .
So folks. this is a fabulous CD. It's well-written and beautifully recorded. The sound is so clear and the playing by all is brilliant. And that voice just gets better with age.
SIX BEERS PLEASE, BARMAN!

OK, RON!




Tags: mesmerisers, i-94 bar records, screaming tribesmen, mick medew, ursula, love is calling