Rolling thunder from a band called Slug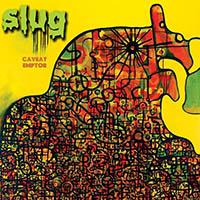 Caveat Emptor - Slug (self released)
The northern New South Wales town of Lismore has been a magnet for people from Sydney's '80s underground music scene and their Melbourne cousins. Or it was until successive floods wiped half of it off the map. Slug draws on this influx of tree changers for paret of its membership, and sounds like they brought some eroding bricks from the Hopetoun Hotel with them.
Slugs don't move quickly so it should come as no surprise that the band's debut long player is out decade or so into the band's life cycle. "Caveat Emptor" is swampy, psychedelic-tinged rock and roll. Recorded live in a studio with minimal overdubs, It sounds more urgent than a bunch of old farts are entitled to be.
This is ugly music in a similar vein to the early Kim Salmon and the Surrealists or The Lizard Train. The lurching but locked-in engine room of bassist Leon Beveridge and Brad Hoskins lays down a dense bottom end for three (!) guitarists to criss-cross with fuzzy, flame-thrower guitar.
I have experienced Slug live in their home environment and their raw power was evident, even in a boomy bowling club from a sub-par listening position at a merchandise table. It was a revelation to get the full sonic picture and the album's been on high rotation since landing.
Singer Dave Slade was frontman for early '80s Sydney band No Mans Land and his phrasing is superb, giving the songs a dramatic edge without being over wrought. Check the Bauhaus-like "No-One Else" for a reference point. And the guitarists, Geoff Lynne, Steve Reynolds and Rod Black ("guitar/noise"), summon an unholy racket.
You get format choices: Vinyl or CD, the latter with different art and comprising 15 songs including a rollicking cover of Spencer P Jones' "Execution Day". On either physical format, "Gimme a Break" is a strong opener and "Paint This Town In Flames" ups the ante with its urgent throb, and chanted chorus. There's plenty more where that came from.
"I Can't Wait" is the contrast; it's almost ethereal in its arrangement and a respite from the sturm und drang that surrounds it. There's no surf in Lismore but "Death Rides a Tube" manages to slyly reference The Ventures and convince you otherwise.
Much recommended. - The Barman



1/2

Lismore band Slug play a dangerous game, virtually begging you to dislike them. I mean, a name like Slug. Whilst multiple meanings tag themselves to that particular noun, none invite joy.
And if you call your album "Caveat Emptor" (essentially buyer beware), you may be discouraging potential clientele. Add three guitarists, one billed as noise guitar, and you run the risk of emptying the hall before playing a note.
But that would be unfortunate because Slug most definitely have a thing. It's not your usual thing.
But who wants your usual thing?
The first element that caught my attention was the rhythm section. Leon Beveridge and Brad Hoskins lock in like rolling thunder. Not the expected straight ahead panzer tank assault but the push and pull where rock meets roll. Few rhytmn sections understand this dynamic and any band that does has pretty much won me over.
Think "Distemper" period New Christs or reformation period Stooges but give them some room to vary around the theme.
Nor do the combined guitars of Messers Lynne, Reynolds and Black succumb to the metallic grind of hammered home riffs. Even the threatened noise guitar finds an atmospheric as opposed to overwhelming place in the mix.
Vocalist Dave Slade has a voice that flips somewhere between Joy Division's Ian Curtis and Theatre of Hate's Kirk Brandon without plunging to the depths of the former's despair nor indulging in the latter's histrionics. He also has enough of the dry Australian to maintain an air of irony around the, admittedly, pained subject matter.
Dave has had enough and he's not going stand for no more, geddit.
As might be hinted, this is not an album that will teach the world to sing in perfect harmony. Think of something a neighbourhood over from the Australian Gothic of Rowland S Howard and Spencer P Jones. In fact, the album includes a cover of Spencer's "Execution Day" that leaves the original sounding positively cheerful.
But misery loves company and you'll surely find a place for this collection in your cold, cold heart.
I give this four and a half bottles only because the one thing it lacks is a big, in your face single to get it over to a wider audience. I suspect Slug might sneer at such things.

1/2
Tags: lismore, dave slade, slug, caveat emptor