Roxy - Tonight's the Night Live – Neil Young (Reprise)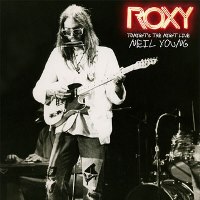 There's a Neil Young biography (maybe one of the earliest about him) by Johnny Rogan from 1982 that documents the great man's "Ditch Trilogy" period in some detail. A section about Neil's 1973 UK tour - before the release of "Tonight's The Night" – makes him sound unhinged.
Rogan's telling has Young believing his own audience patter that he's "in Miami Beach" (tagline: "It's cheaper than it looks") and delivering ramshackle, desolate songs that the audiences had never heard before – when all the punters wanted was a run-through of the hit album "Harvest."
Besides criticising the op shop stage décor, Rogan painted Young as near incoherent, bombed out of his brain on whatever was handy and mumbling. It's like the man's mind was a bottle short of a full case of Corzo.
"Live at The Roxy" shows Rogan's assessment of Young's mental state on the tour that would follow was well off-beam. This show – the first by Young and his band the Santa Monica Riders since recording the tequila and hash-fuelled masterpiece "Tonight's The Night" – shows him using the same Miami Beach lines…and having a riot of a time.
The band is nicely loose-tight and almost playful in its treatment of the material. Neil might have been mellowing his mind on white spirits and green herbs while wrestling with a marriage breakdown and the loss of two good friends, but he doesn't sound anything like a candidate for a straight-jacket.
At one stage he drops the line: "Ten years in the business, folks. I feel like Perry Como!"
The most surprising thing about the gig is the rapturous way that the crowd laps up every note of each unfamiliar tune.
This was no Greatest Hits package. The only number with any familiarity (apart from the numbers being passed around) was the impromptu version of "Roll Out The Barrel". I don't care who you are: Try playing songs that nobody's heard to a live audience in 2018 and see how you go. Even if your name is Justin Beiber.
Before you play it, have a look at the credits, As well as Young, there's Ben Keith, Nils Lofgren and the Crazy Horse rhythm section of bassist Billy Talbot and drummer Ralph Molina. The latter have a (deserved) reputation for being plodding on many Young recordings. They sound positively limber here.
Lofgren on piano and guitar is stellar. He plays taught, economical solos, while Ben Keith is the steel guitar rock on which Young's songs rest for that touch of sweetness. The whole shebang sounds a large degree warmer and brighter than the death-focussed studio album would be. And in tune.
The band sounds like they'd been freed from the studio and they just wanted to play the songs live. Which is exactly what had happened.
So take a leaf out of the Book of Hindsight and regard the Johnny Rogan ramblings for what they were: Piffle. I mean, Neil Young acting contrary? Ask David Geffen (who's name-checked in the audience at the Roxy.)
One of my favourite Neil Young experiences was being in the crowd at a Sydney show about 15 years after this set. The scene was set with a bracket of wholesome, country-inflected and acoustic songs. Intermission ensued. Then Neil returned with his power trio and let rip a massive E chord that had the mums and dads visibly cringing in their seats. An hour of over-amped, unfamiliar feedback howling excess followed, leaving ears bleeding and a few yuppies running for the exits. Now, THAT'S contrary.
In case you hadn't noticed, "Roxy" comes with a hearty recommendation from this quarter. See you in Miami.

Tags: live, neil-young, tonight's the night, roxy