Stu's collaboration bears pop fruit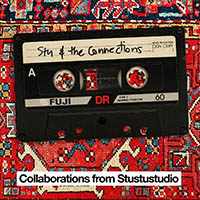 Collaborations from Stustustudio – Stu & The Connections (Crankinhaus)
Vaguely new wave-sounding pop from a combo led by well-credentialled Sydney drummer Stu Wilson (Loose Pills, Hammerfish, Aberration and ex-Lime Spiders, New Christs, Chris Masuak & The Harbour City Wave Riders, and the Soul Movers) and it's damned good. Six tracks - one a stripped-down alternate version – that showcase some adept song-writing and a disclination to be pigeonholed.
Stu's one of the rare breed of drummers who sing - and that even rarer strain of drummers who sing well. He's in the upper register and writes pop songs to suit. Wilson gets a bit of assistance – Sienna Egan, vocalist for his other current band The Rivers is prominent among a list of notable collaborators that includes bassist Andy Newman (ME-262, The Visitors). Matt Galvin (Barbarellas, Happy Hate Me Nots) and Ryan Elsmore (Loose Pills).
"Collaborations" is as much a product of lockdown as an antidote to it. The Stustustudio of the title is a refwrence to Stu's own home studio in Sydney's inner-west. It's grown-up pop that recalls REM and occasionally Died Pretty, at least in some of the guitar trimmings. There's a touch of XTC in the dynamics of "Voice Inside Your Head" and Matt Galvin's guitars impart a harder edge atop an acoustic bed. Wilson's melodic vocal is much less angsty than Andy Partridge. It's a strong song, as is opener "Turn Down The Sound".
"Turn On You" is swept along by a bustling feel and arresting guitar harmonics that give it a psychedelic tinge. "Working Together" is a duet between Stu and Sienna that's equal measures of too cute for its own good and catchy and the acoustic reprise closes out the EP. The steady and darkly shimmering "Look Down Inside" fills out the diversity brief with lyrical introspection that probably comes naturally when you have a day job as a psych nurse.



3/4
Tags: loose pills, new christs, stu wilson , andy newman, matt galvin, crankinhaus records, Collaborations from Stustustudio, Stu & The Connections, crankhaus, ryan elsmore